Brevard Is One Of North Carolina's Best Halloween Towns To Visit This Fall
Halloween has always been my favorite holiday – it's a time where normalcy is thrown to the curve and exchanged with candy for dinner, adorning elaborate costumes and really, stepping away from the constructed world we live in on a day-to-day basis. From trick-or-treating to haunted houses; Halloween is for embracing the weird and wonderful dark side of life. If you're looking for a true takeover, Halloweenfest transforms the quaint town of Brevard into something truly ghoulish. Take a peek below at why Brevard is the best Halloween town in North Carolina.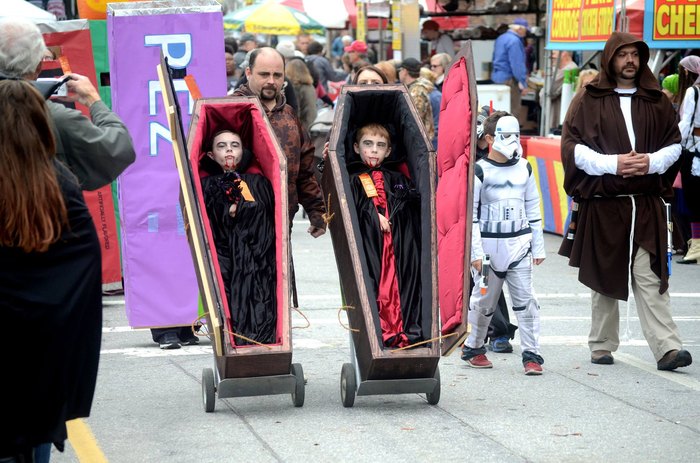 This is just TOO awesome! Y'all can have your haunted houses… I'll be planning the perfect costume and watching Brevard transform into something magical. Have you ever attended this event? What do you think if the best place to celebrate Halloween in North Carolina? The 2019 Halloweenfest takes place in the best Halloween town in North Carolina: Brevard on October 26th beginning at 10 a.m. For more information, visit the event page.
Address: Brevard, NC, 28712
Looking for another family-friendly Halloween activity? How about this awesome light show.
OnlyInYourState may earn compensation through affiliate links in this article. As an Amazon Associate, we earn from qualifying purchases.
More to Explore
Best Halloween Town In North Carolina
What are the best Halloween events in North Carolina?
Notwithstanding the above Halloweenfest that transforms the City of Brevard into a Halloween wonderland each year, two other spooktacular events are worth seeking out as well and both of them (like Halloweenfest) are also appropriate for the whole family.
Broken Plow Farm in Sanford lights up the farm with a light show (think Christmas lights, only with Halloween-centric decor) that features some creepy and ghoulish sights, yet is still appropriate for kids. The event is seen from the comfort of a haunted hayride with a duration of approximately 30 minutes. Admission has historically been under $10/person. You can follow their Facebook page here for updated info for the 2019 season and  beyond.
Next up, a zany pumpkin carving extravaganza in Charlotte, where some elaborate pumpkin carving takes place all in the name of fundraising. Practice up on your slicing and carving skills and get ready to enter the contest - or just attend as a spectator and admire the extreme artistry and creativity found at this event. The 2019 event will be the 11th year for this extremely popular Halloween attraction. You can check their website for updated information regarding times, entry fees, and more, at this link.
What are the best haunted houses in North Carolina?
North Carolina has quite a few haunted houses but most of the seasonal haunted attractions are found outside in a farm or park setting, as opposed to inside a traditional house. The best of the best is found in Greensboro at the Woods of Terror. Elaborate costumes combined with very detailed spooky settings make the many attractions in the Woods of Terror creepy beyond words. To ease visitors into the terrifying evening ahead, the Woods has a monster midway that features games and more, plus a nightly parade of ghouls at 7 p.m. sharp. Learn more from this link.
What is the scariest place in North Carolina to visit at Halloween?
The aforementioned Woods of Terror is, by far, the creepiest, most unnerving of Halloween haunts to visit... and it opens each year in late September - so you can visit it over and over (and over) before Halloween even arrives!
Related Articles
Explore North Carolina