This Swimming Hole Hike In North Carolina Leads To A Hidden Quarry Filled With Spring Water
After a hike on a hot summer day, few things feel better than a dip in some cold water — unless that dip takes place in an old rock quarry filled with chilling spring water. If you're up for an adventure, the Eno rock quarry in North Carolina is a swimming hole hike in North Carolina that leads to a relatively hidden spot – hidden to all but the locals who are familiar with this dreamy, natural pool.
Before we continue; however, it's worth noting that the NC Division of Parks and Recreation highly discourages swimming here and that the area is regularly patrolled by rangers. With that in mind, if you're swimming and using the quarry in a manner that could be hazardous, you can bet a ranger will ask you to leave the area. Safety is everyone's most important concern, so if you see someone not making smart decisions and they're using the quarry in a way that could cause injury, we're sure the rangers would appreciate a head's up. With that covered, let's get to one of the best swimming hole hikes in North Carolina.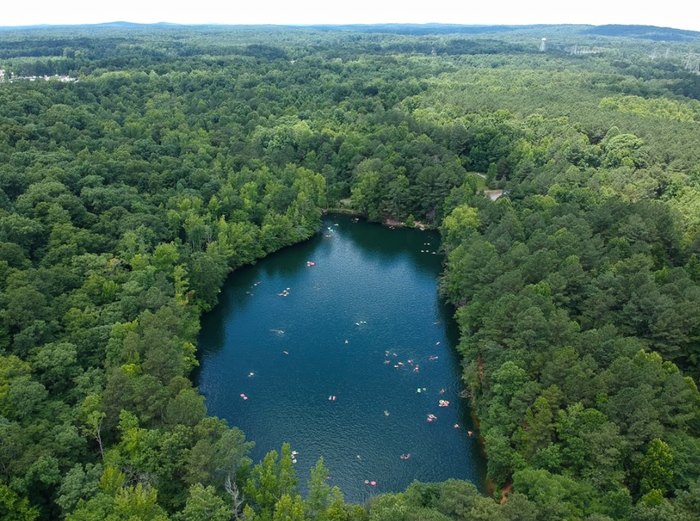 The trail to this natural swimming hole in North Carolina is approximately two miles. You'll start your trek on Cabelands Trail and then veer off onto Eno Quarry Trail once you're in the forest leading to the best swimming quarry in North Carolina. The parking lot for the Cabelands trailhead is small, so arrive very early or late in the day to get a spot. No overflow parking is allowed on the road.
Exploring a swimming hole in the middle of the woods is like finding a needle in a haystack. For another hidden treasure, discover an emerald swimming lagoon hiding deep in the Smoky Mountains of North Carolina.
OnlyInYourState may earn compensation through affiliate links in this article.
More to Explore
Eno Rock Quarry in North Carolina
What's the most beautiful waterfall in North Carolina?
Linville Falls is our favorite North Carolina waterfall and it just so happens to be the most beautiful waterfall in North Carolina. This giant waterfall forms when the Linville River pours over the cliff edge into the pool below, creating a scene that looks like it came out of a storybook! While the walk to the bottom of the falls is quick and easy, you'll want to spend all day relaxing by the falls and soaking in the beautiful surroundings of the famous Blue Ridge Mountains. Located just a short walk from Blue Ridge Parkway, this is a waterfall that is a must-visit on your next trip through North Carolina.
What is the most popular hike in North Carolina?
The Grandfather Mountain Trail may not be the most popular hike among average people in North Carolina, but it is definitely the most popular trail among the adventurous in North Carolina! This trail requires you to climb over 15 ladders as you make your way up the steep and rocky terrain of Grandfather Mountain and it is unlike any trail you've done before. This is not a trail for the faint of heart, but the pride you will feel after making it to the top, combined with the stunning views of the North Carolina wilderness below, will make you glad you laced up your hiking boots!
What is the best scenic lake in North Carolina?
White Lake is the most scenic lake in North Carolina and it is also the clearest lake! Located outside Elizabethtown, North Carolina, White Lake gets its water from underground artesian springs leaving it so clear that you can see straight to the bottom of the lake! White Lake also has a sandy beach, which makes it ideal for sitting out and relaxing while taking in the scenic view of your surroundings.
Related Articles
Explore North Carolina
Featured Addresses

Eno Rock Quarry, 4950 Howe St, Durham, NC 27705, USA