You'll Want To Spend All Day At Zoar Valley's Swimming Holes In New York
Editor's Note: Some of the areas depicted in the photos of Zoar Valley are now private property and can no longer be accessed by the public.
Summers in New York can be brutal. If the heat and humidity have got you down, grab the sunscreen and a bathing suit, because we've got the cure to your summertime sadness! The Zoar Valley Multiple Use Area is a 3,000-acre conservation area managed by the state. It makes for a fantastic day outing, and best of all, there's a few swimming holes to cool off in! These are some of the best swimming holes in New York. If you're looking for awesome New York swimming holes, look no further than Zoar Valley.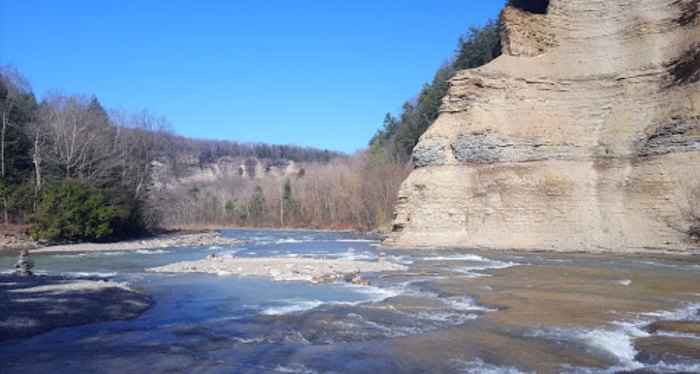 For more information about the area and swimming holes, check out the Department of Environmental Conservation website. Remember to be aware of local weather conditions and careful where you step: wet rocks can be quite slippery!
OnlyInYourState may earn compensation through affiliate links in this article.
Address: Zoar Valley Multiple Use Area, 10112 Valentine Flats Rd, Gowanda, NY 14070, USA
Zoar Valley
May 05, 2022
Are Zoar Valley's swimming holes good for people of all ages?
There are places in Zoar Valley where anyone can swim, but if you bring children along, be sure to supervise them. The rocks can be slippery in many places and some swimming areas drop off rapidly to deeper depths. Furthermore, the water runs quickly in some areas. Children can swim in Zoar Valley if you take the time to find an appropriate and safe spot and if you plan to watch them at all times.
Can I bring my dog to Zoar Valley? 
Dogs are allowed in this area but you must keep them leashed at all times.
What are the best times of year to visit Zoar Valley?
As you might imagine, it gets quite cold in this part of New York in the fall and winter and well into the spring as well. If you wish to swim in the Zoar Valley swimming holes, you'll want to visit in the summertime. However, the Zoar Valley Multiple Use Area is beautiful at any time of year. These are some of the best swimming holes in New York, but the area is also wonderful for hiking and exploring without actually going into the water.
Is camping allowed at Zoar Valley? 
No, this is a day use area only. Camping is prohibited here. However, you can find camping nearby in several places including in East Otto State Forest.
Is all of Zoar Valley public property?
No, this area is a collection of public and private property. With that in mind, be aware of your space and where you are going. Look for posted signs so you do not trespass on the property of a private property owner.