There's Something Truly Terrifying About This Abandoned Insane Asylum
New York is full of abandoned places, but few have as imposing of a presence as one particular sprawling estate in Ovid. Even fewer have as much history. This grand Victorian structure may look like the remains of a once-beautiful mansion, but the massive complex was actually the site of the Willard Asylum for the Chronic Insane. Thousands of mentally ill individuals lived and died in this now-abandoned hospital. Sadly, Willard Asylum is just one of several abandoned asylums in New York state. What it looks like today is absolutely chilling, as are the heartbreaking Willard Asylum patient stories.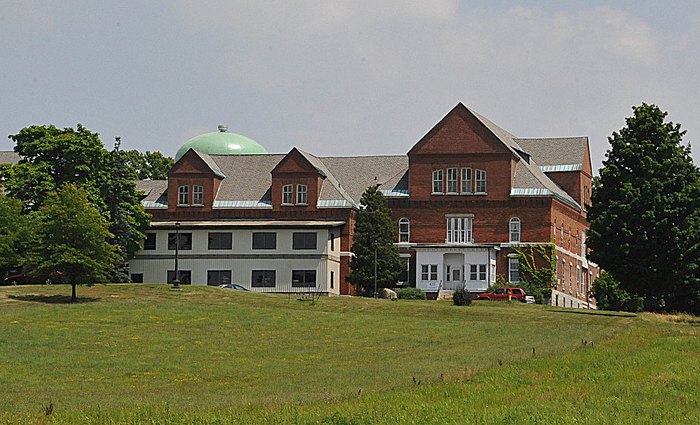 In recent years, annual walking tours of the Willard Asylum in New York have been held by the Five Points Correctional Facility, although the state is more and more hesitant to allow tourists on the property due to the crumbling infrastructure. At this time, the future of this historic building is uncertain. Still, it stands as a reminder of the past as we strive to do better by our residents in the future.
Please keep in mind that this is private property that is still being utilized by the state and is regularly patrolled.
If you're curious to see more pieces of New York history, here are several more abandoned places in New York.
OnlyInYourState may earn compensation through affiliate links in this article.
Address: Ovid, NY 14521, USA
Willard Asylum & Related Info
February 01, 2023
What are some of the coolest abandoned places in New York?
Safely (and ethically) exploring abandoned places is a challenge. However, there are a few abandoned places in New York that are open to the public or offer unique, guided history tours.
Blockhouse at Central Park
Brooklyn Naval Yard
Ellis Island Hospital Complex
Floyd Bennett Airfield
Fort Totten and Fort Tilden in Queens
Fort Wadsworth Park
Governors Island
Old City Hall NYC Subway
Old Croton Aqueduct Weir
Roosevelt Island's historic smallpox hospital
Are there any historic mansions in New York?
Both living and abandoned, the Empire State is full of unique, historic mansions and fortress-style "castles." The best historic sites are open for public tours. Some extravagant and beautifully ornate historic mansions to check out in New York are:
Bartow-Pell Mansion, The Bronx
Clermont, Germantown
Frick, New York City
George Eastman Mansion, Rochester
Governor Reuben Fenton Mansion, Jamestown
Gracie Mansion, Manhattan
Hyde Hall, Cooperstown
Kykuit, Tarrytown
Locust Grove, Poughkeepsie
Merchant's House Museum, New York City
McClurg Mansion, Westfield
Mills Mansion, Staatsburg
Mount Vernon Hotel Museum And Garden, New York City
Nicholas Roerich Museum, New York City
Olana, Hudson
Phelps Mansion, Binghamton
Rose Hill Mansion, Geneva
Schuyler Mansion, Albany
Seward House Mansion, Auburn
Skene Manor, Whitehall
Springwood, Hyde Park
Vanderbilt Mansion, Hyde Park
Wilderstein, Rhinebeck
Yaddo, Saratoga Springs