Here Are 10 Unique Day Trips In New York That Are An Absolute Must-Do
We've all been there; wanting to plan a getaway without having to travel too far. If you're like us, you've likely searched "day trips near me in New York" many a time.
It's true that for most of us New Yorkers, whenever we have a considerable amount of free time, we like to spend it traveling to somewhere new within our state, an area we've yet to explore. There's just no better feeling than having an entire day that you can dedicate to taking an unforgettable trip! So, where should you head off to next? Try one of these 10 unique day trips in New York that are worth checking out.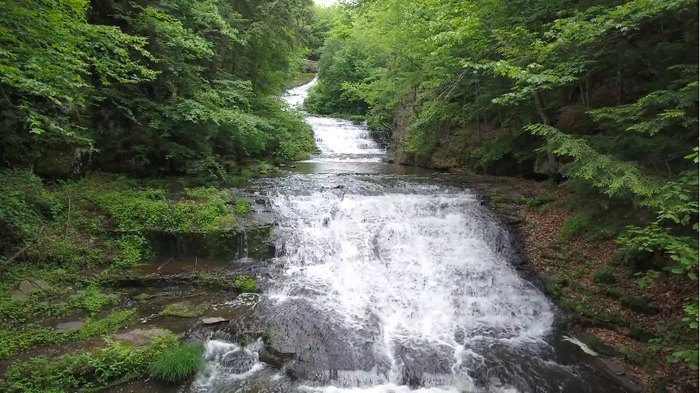 Did we help provide some answers to your question, "what are some unique day trips near me in New York?" We sure hope so! What are some of your favorite day trip destinations in the Empire State? Feel free to share them with us in the comments below — we'd love to hear from you!
If you're still looking for inspiration for your next big adventure, check out these 10 Amazing Places In The Catskills You Can Visit On One Tank Of Gas!
Address: Eldridge Research Center, The Huyck Preserve, 284 Pond Hill Rd, Rensselaerville, NY 12147, USA
Address: Mackenzie-Childs, 2115 W Genesee St Rd, Auburn, NY 13021, USA
Address: Long Island Aquarium, 431 E Main St, Riverhead, NY 11901, USA
Address: Whiteface Mountain, Wilmington, NY 12997, USA
Address: Lockport Cave & Underground Boat Ride, 5 Gooding St, Lockport, NY 14094, USA
Address: Saratoga Springs, NY, USA
Address: Stone Quarry Hill Art Park Inc, 3883 Stone Quarry Rd, Cazenovia, NY 13035, USA
Address: Museum At Bethel Woods, 200 Hurd Rd, Bethel, NY 12720, USA
Address: Adirondack Railroad, 330 Main St Suite 102, Utica, NY 13501, USA
Address: Central Park North, Central Park N, New York, NY, USA
day trips near me in New York
August 13, 2021
What are the very best day trips in New York?
Day trips in New York are as varied as impressive as the state's different regions. No matter your location, you'll be thrilled to discover there are countless adventures waiting just beyond your doorstep. One of our favorite recommendations is a beautiful destination known as Buttermilk Falls State Park. Tucked away in Ithaca, this beloved spot features a positively picturesque waterfall. Plus, you can even go swimming at the base of Buttermilk Falls if the weather allows for it. On a hot summer day, it's hard to imagine a better spot to cool off! Is it any wonder why Buttermilk Falls State Park is considered one of the best state parks in New York?
What are some fun attractions in New York?
Calling all adrenaline junkies! One of the most fun attractions in New York is a zip line that will have your heart racing. Head to Hunter Mountain and you'll experience one of the longest and highest ziplines in the entire state. After leaping off the platform — attached securely with a harness and helmet, of course — visitors will soar at 600 feet above the ground! As you're zipping through the air, you'll also get to enjoy breathtaking views of the surrounding landscape. And now that you've worked up an appetite, how about heading to the Next Pizza Capital of America, Lake George? The main street of this charming town is lined with pizza shops, giving you the option of eating pizza for all three meals of the day. Learn more about some other fun attractions in New York you won't want to miss.
Address: Eldridge Research Center, The Huyck Preserve, 284 Pond Hill Rd, Rensselaerville, NY 12147, USA
Address: Mackenzie-Childs, 2115 W Genesee St Rd, Auburn, NY 13021, USA
Address: Long Island Aquarium, 431 E Main St, Riverhead, NY 11901, USA
Address: Whiteface Mountain, Wilmington, NY 12997, USA
Address: Lockport Cave & Underground Boat Ride, 5 Gooding St, Lockport, NY 14094, USA
Address: Saratoga Springs, NY, USA
Address: Stone Quarry Hill Art Park Inc, 3883 Stone Quarry Rd, Cazenovia, NY 13035, USA
Address: Museum At Bethel Woods, 200 Hurd Rd, Bethel, NY 12720, USA
Address: Adirondack Railroad, 330 Main St Suite 102, Utica, NY 13501, USA
Address: Central Park North, Central Park N, New York, NY, USA