Hike To Carpenter Falls Near New York's Skaneateles Lake To See One Of The Prettiest Waterfalls In The Area
There are too many waterfall hikes throughout the state of New York to even count, but they're even better when you get to see three gorgeous waterfalls in one short hike. That's what you get with Carpenter Falls Skaneateles NY in the one-of-a-kind Finger Lakes region. Hiking trails with waterfalls are the best! By the time you've gotten a look at the region from some of the gorgeous overlooks in the area, you'll be ready to plan your next trip to the Finger Lakes as soon as possible. Just make sure you remember to bring a camera along. If you find yourself asking, "Where are there waterfalls near me?" then you'll be headed to some of the best of the best after reading this post.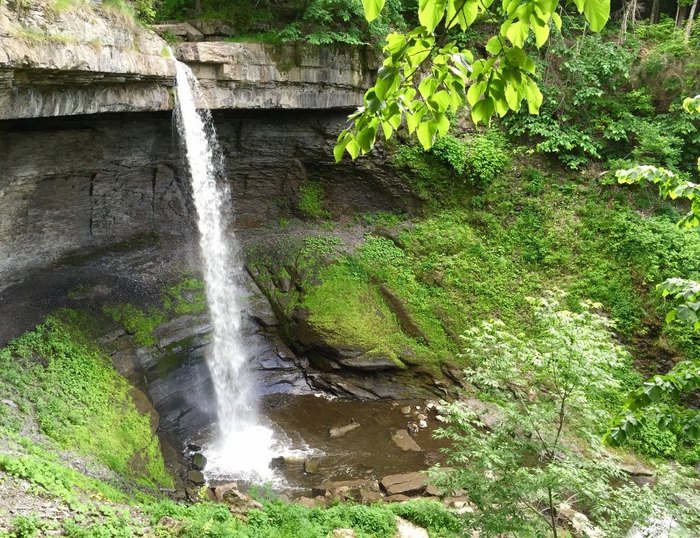 Check out this video by Finger Lakes Land Trust to watch Carpenter Falls in action:

Have you ever hiked to Carpenter Falls Skaneateles NY? Do you know of any other great hikes near Skaneateles? If so, we'd love to hear your thoughts and experiences in the comments section below!
There's seemingly no end to the adventures one can have on Skaneateles Lake and throughout the Finger Lakes region. For more adventure nearby Carpenter Falls, head to Fallbrook Point on Skaneateles Lake, or take a trip to Bear Swamp State Forest Park just a few miles south.
If you want to go on more of the best hikes near Skaneateles, check out the vast, verdant, and beautiful Finger Lakes National Forest.
Address: Carpenter Falls, Niles, NY 13118, USA
OnlyInYourState may earn compensation through affiliate links in this article.
Waterfalls Near Me
May 06, 2022
What else is there to do in the Carpenter Falls area?
Some other things to do in the Carpenter Falls area are:
Many people enjoy visiting Skaneateles to shop at its stores and to eat at its restaurants. There are lots of things to do in and around the lake. Visit area parks or walk out on the Skaneateles town pier.
What are some things to do outside of Skaneateles? 
Things to do outside of Skaneateles include:
The Finger Lakes Region is known for many things, but one of the main things this area is famous for is the many wineries along the shore of these lakes.
Where are some good places to stay in this area?
Some good places to stay near Carpenter Falls are:
It's on 12 acres and has 34 rooms. The spa is recognized as one of the top spas in the country. Outdoors, there is an aqua terrace, or outdoor hot tub, that is open year-round.
It has three bedrooms and is perched right on the shore of Skaneateles Lake. There's a great big deck for swimming and sunbathing during the warmer months. This is a fantastic getaway accommodation that everyone will love!
Address: Carpenter Falls, Niles, NY 13118, USA
OnlyInYourState may earn compensation through affiliate links in this article.