Take A Magical Nighttime Adventure Into Harry Potter's Forbidden Forest With This Special Event In New York
If you're looking for a little magic in your life, you've found it! I visited the Forbidden Forest with a few friends, and our lives haven't been the same since. We're all massive Harry Potter fans, and when we heard that we were just about an hour from an immersive Harry Potter experience, we jumped at the chance to attend.
The Forbidden Forest can be found at FDR State Park in Yorktown Heights, Westchester County. It's easy enough to get to from all New York City boroughs, Hudson Valley towns, and Northern New Jersey, and it's worth the drive. Fun for the whole family, it's accessible to all. The shops, restrooms, and trail itself are all wheelchair-friendly, though you may need a motorized wheelchair. Motorized chairs are available at the event!
The first thing you'll do is park. Parking costs $10 (no cash) at the event or $8 in advance (online). I had no problem parking, but I visited fairly early on a Monday evening.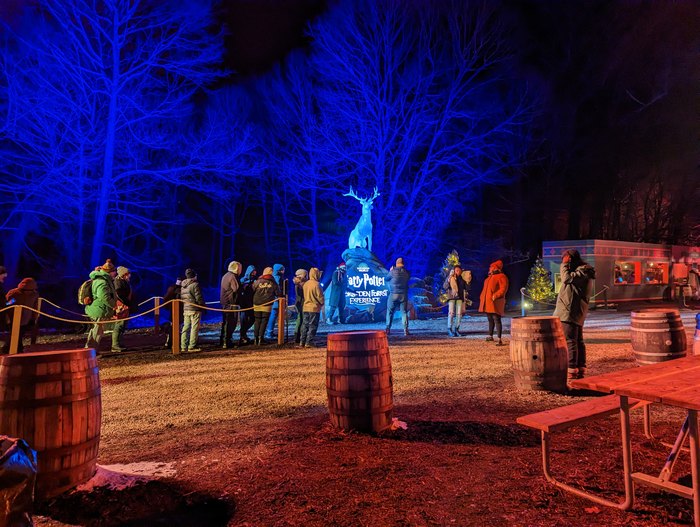 There's so much more to enjoy – I didn't want to give it all away! The lights are incredible, the music is fantastic, and the interactive elements are a blast! Cast your own Patronus, battle friends in a magical duel, visit Aragog's den, and watch for werewolves and unicorns! You have to experience it for yourself. Kids and adults alike will have a blast and, even if you're not the biggest Harry Potter fan, it's hard not to enjoy the immersive experience.
If you're wondering, yes…there is a pit stop halfway through the trail with additional restrooms and warm drinks. It's incredibly helpful, especially if you have young children. Be sure to bundle up when you visit, layers are best. You have until January 22nd to book your tickets, which you can do right here! Ticket prices vary and you'll get the best deal if you buy a family bundle. Harry Potter's Forbidden Forest in Westchester is open daily from 5-11 p.m., with the last entry at 9:45 p.m. The trail takes between 45-75 minutes to walk through. Plan on spending 60-90 minutes here…or more!
Click here to find more information or book tickets.
Nowhere near New York State? No problem! The Forbidden Forest can also be found in Leesburg, Virginia. Learn more about that special event here.
Address: FDR State Park, 2957 Crompond Rd, Yorktown Heights, NY 10598, USA
OnlyInYourState may earn compensation through affiliate links in this article.