Explore Two American Landmarks When You Visit The Statue Of Liberty & Ellis Island In New York
Whether you enjoy history or not, seeing the Statue Of Liberty in person is inevitably on everyone's New York City bucket list. You can see this American icon from Battery Park or aboard the Staten Island Ferry; however, the best way to experience the splendor of this man-made wonder for yourself is a tour with Statue City Cruises and the National Park Service. And, of course, each tour stops at the Ellis Island Immigration Museum as well, a must-visit for anyone interested in American history or with a family connection to this immigration hub.
When I moved to the east coast in 2021, New York City was on the top of my bucket list, but it took until recently to actually make the trip. I had visited twice in college for newspaper conventions, but didn't experience as much of city as I would have liked, so in February, we made up for it as best we could during a four-day weekend, including stops at more coffee shops than I can recall, a Broadway show, and so much more, including the Statue Of Liberty and Ellis Island.
Interested in more first-person adventure content? Check out our Everyday Explorers series here.
Statue Of Liberty: Tickets, Security & More
It is best to book your Statue of Liberty tickets in advance. We personally used the Statue Of Liberty Tickets site, but I have seen tickets offered on other sites as well. Tickets were $30 per person, $31.30 for pedestal or crown access (these tickets are limited).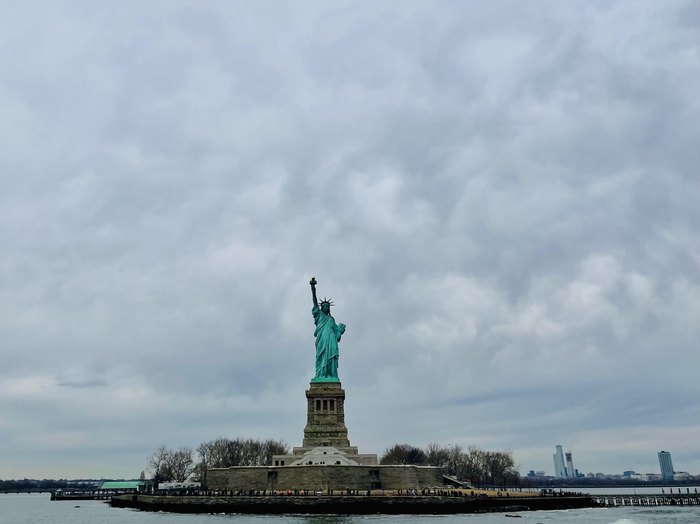 The Statue Of Liberty
Gifted to the United States by France to commemorate 100 years of independence, construction of this national treasure was completed in 1884, where it was reduced to 350 individual pieces, packed in 214 crates, and shipped across the Atlantic to New York Harbor.

The Statue of Liberty was officially dedicated on October 28, 1886, and is now recognized as a universal symbol of democracy and freedom. It was declared a National Monument in 1924, and is now under the care of the National Park Service.
Ellis Island National Immigration Museum
'Visiting the Statue of Liberty and Ellis Island is indeed a once in a lifetime opportunity and should truly be checked off everyone's U.S. Bucket List in their lifetime – whether your family immigrated through Ellis Island or you simply enjoy history, architecture, or stunning views. 
To discover more incredible boots-on-the-ground adventures across America from our team of local travel experts, check out all of the articles in OnlyInYourState's Everyday Explorers series. What destinations would you like to see featured next on OnlyInYourState's Everyday Explorers? Tell us where we should go on our nominations page.
OnlyInYourState may earn compensation through affiliate links in this article.
Address: Statue City Cruises Battery Park/ Liberty Island, Castle Clinton National Monument, Battery Park - Liberty Island, New York, NY 10004, USA