Get Lost In These 6 Awesome Corn Mazes In New York This Fall
Fall in the Empire State is a magical time. The colorful hues of the fall foliage, the crisp air, and the pumpkin patches in New York all combine to make a season of glee. Many of our favorite farms are open for visits and host a variety of much-anticipated fall activities. One of our very favorite things to do this time of year is get lost in one of the many New York corn mazes. Ready to jump into fall? These are some of the best corn mazes in New York and you won't want to miss them!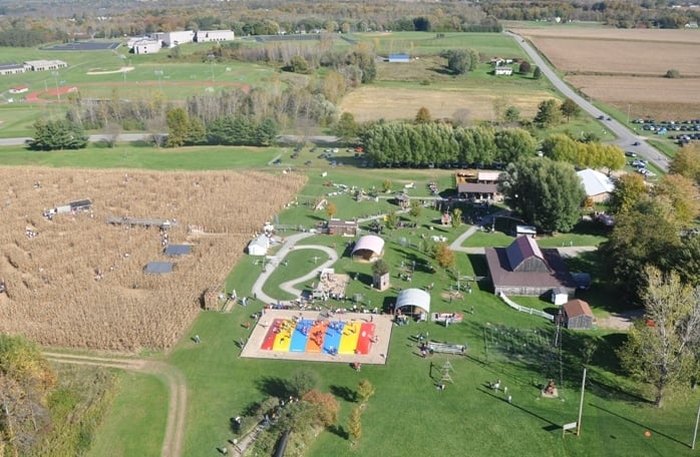 In the mood to spook yourself out? Then try reading about this Haunted Movie Theater In New York That's More Terrifying Than An Actual Horror Film!
Address: 1342 Eddy Rd, Macedon, NY 14502, USA
Address: 29 Bevis Rd, Schaghticoke, NY 12154, USA
Address: Critz Farms and Critz Farms Brewing & Cider Co., 3232 Rippleton Rd, Cazenovia, NY 13035, USA
Address: Fort Ticonderoga, 102 Fort Ti Rd, Ticonderoga, NY 12883, USA
Address: Queens County Farm Museum, 73-50 Little Neck Pkwy, Queens, NY 11004, USA
Address: Harbes Family Farm - Mattituck, 715 Sound Ave, Mattituck, NY 11952, USA
Fall In New York
September 29, 2021
What are some more of the best corn mazes in New York?
There's so much fall fun to be had in New York! I know we just featured Critz Farms on the list above, but it's so great that we had to do a whole separate article just on it. This place is phenomenal and has eight acres to get lost in. You'll be a-maized by the fun you'll have here!
What are some good pumpkin patches in New York?
New York pumpkin patches are an annual tradition for many. We've got ten great ones picked out for you here. Nothing screams "autumn!" more than heading down to the pumpkin patch and picking out your perfect pumpkin to carve.
What are some fun fall activities in New York?
We've got so many great fall festivals. Most of the farms we mentioned above as having great corn mazes also have other kid-friendly activities to make your autumn outing a blast. Looking to have more fun outside? Check out these New York fall day trip ideas!
Address: 1342 Eddy Rd, Macedon, NY 14502, USA
Address: 29 Bevis Rd, Schaghticoke, NY 12154, USA
Address: Critz Farms and Critz Farms Brewing & Cider Co., 3232 Rippleton Rd, Cazenovia, NY 13035, USA
Address: Fort Ticonderoga, 102 Fort Ti Rd, Ticonderoga, NY 12883, USA
Address: Queens County Farm Museum, 73-50 Little Neck Pkwy, Queens, NY 11004, USA
Address: Harbes Family Farm - Mattituck, 715 Sound Ave, Mattituck, NY 11952, USA