There's A Castle In New Mexico That's Also A Turquoise Museum And It's A Gem-Lovers Happy Place
If there's any gemstone undoubtedly associated with the Southwest, it's turquoise. Sturdy, earthy, and available in a wide array of colors that remind you of the sky and water, turquoise is an alluring stone that characterizes life in this region. This state is no stranger to them, so it's unsurprising to hear that there is a turquoise museum in New Mexico. What is surprising, however, is where it's located.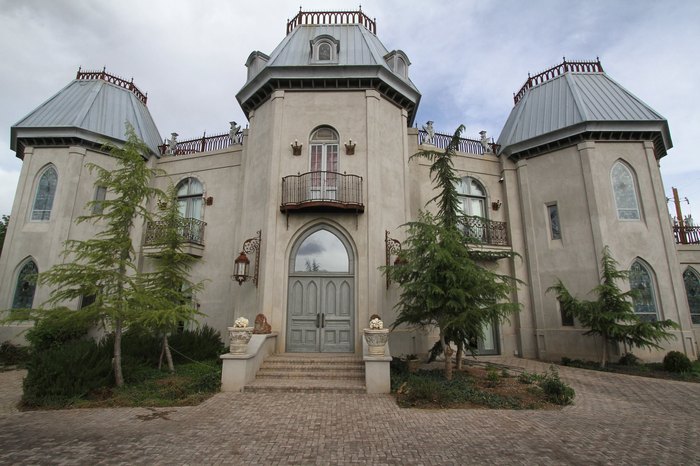 It is open Monday through Saturday from 10 a.m. to 5 p.m. Tickets start at $16. You can find additional information about the museum, its history, and purchase tickets by visiting their website or Facebook page. Be sure to check in before visiting to make sure they are open for their usual hours and tours.
Website: Turquoise Museum
Facebook: Turquoise Museum
Address: 400 Second St SW, Albuquerque, NM 87102
Phone: 505-433-3684
While you're in the area, grab a bite to eat at The Standard Diner located just a half-mile away. Read more about the cool ambiance and delicious menu options in This Gas Station Turned Diner Will Be Your New Favorite Spot To Fill Up Your Tummy.
Address: 400 2nd St SW, Albuquerque, NM 87102, USA
Turquoise Museum In New Mexico
November 06, 2020
What are the most unique things to do in New Mexico?
New Mexico is full of fun things to do, some of which you won't find in many other places. After all, there's only one place that you can take a hot air balloon over one of the most iconic landscapes to do so – and that's right here! Other than hot air ballooning, you can also sled down white gypsum sand dunes at the White Sands National Monument. You can visit the oldest church in the United States, the San Miguel Mission, or see real dinosaur footprints at Clayton Lake State Park. How many other American state parks can say the same?
What one-of-a-kind destinations can I visit in New Mexico?
Beyond a castle in New Mexico, there are other truly unique spots to visit throughout the Land of Enchantment. Places like the American International Rattlesnake Museum are one-of-a-kind. Located in Albuquerque, the museum has many live rattlesnakes you can see up close and personal – safely, of course, in contained exhibits. Another spot that you won't find anywhere else is the Very Large Array. Even though it's extremely remote – about as "middle of nowhere" as you can get – it's worth visiting. This spot is a scientific marvel and one of the most advanced in the world.
What are the coolest attractions in New Mexico?
Just because there are lesser known places in New Mexico doesn't mean they aren't worth visiting. There are totally cool hidden gems that more people should know about. The state has quite a few cool places to take a dip, such as the Blue Hole in Santa Rosa. This strikingly deep blue natural swimming spot is actually quite deep, and people both swim in it and scuba dive in it. New Mexico also has quite a history around Route 66. Though less-traveled today, there are still remnants of the time when it truly was the Mother Road, such as Tucumcari. You can still find cool neon signs, vintage motels, and roadside diners that look right out of the 1950s because they literally have been around since then!
Address: 400 2nd St SW, Albuquerque, NM 87102, USA