There Are Hand-Carved Caves Hiding Underneath New Mexico, And They're Astounding
New Mexico is home to many incredible landscapes, but they're often hidden deep within the desert or around the bend. It's understood that from rock formations to natural art exhibits, the Land of Enchantment is a scenic dream, but we'll bet you didn't know what's hiding beneath the surface. This amazing hand-carved and unique cave in New Mexico is absolutely breathtaking, and there's one way you can see it firsthand.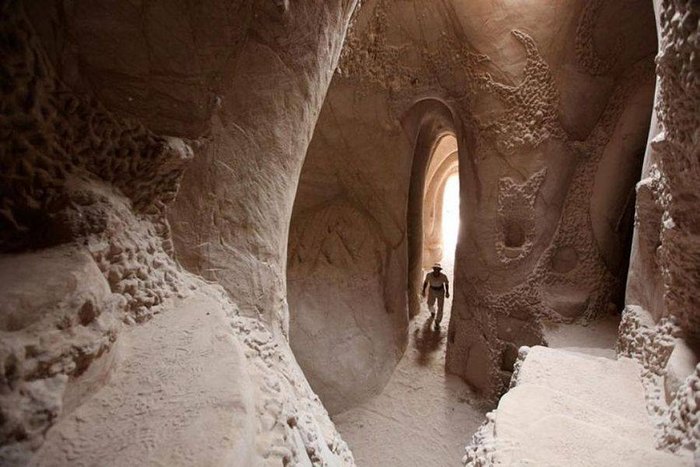 Did you know these works of art were hiding underground? Have you visited them yourself? Let us know how it was in the comments, and don't forget to share photos from the experience with us on Instagram by tagging #onlyinnewmexico for a chance to have your photos featured!
Address: Origin at Rancho de San Juan, 49 de San Juan,, Ojo Caliente, NM 87549, USA
Unique Cave In New Mexico
March 21, 2020
Where can I hike to a cave in New Mexico?
If you're itching to explore more caverns in New Mexico, you're in the right place. One of the best cave hikes in the state is the Tent Rocks Slot Canyon and Cave Loop Trail. This trail will take you to the geological wonders that are tent rocks, named for their tent-like shape. It's part of a national monument near Santa Fe. Along the trail, you'll see a cave in the canyon walls, as well as plenty of the stunning rock formations. It's a 3.1-mile loop that's well worth taking, and you can learn more about it by clicking here.
Does New Mexico have any natural wonders?
While this hand-carved cave is stunning, it is man-made. There are plenty of natural wonders in New Mexico that are impressive for their completely nature-made beauty. There is a 5000-year old naturally-formed dam called Soda Dam located near Jemez Springs. It was formed by calcium deposits and now features a waterfall and a landscape that looks like something from another world. Visit the amusing Camel Rock near Santa Fe to see a huge rock formation that takes the funky shape of a resting camel. Looking for an impressive view? Try the Angel Peak Scenic Park, located near Bloomfield, for a sweeping vista of colorful badlands.
What one-of-a-kind destinations can I visit in New Mexico?
Discover more unique places in New Mexico by checking out the following spots. If you're into art exhibits like the hand-carved cafe, you might love the quirky Meow Wolf in Santa Fe. It's a bit weird and a bit wonderous at the same time, featuring tons of amazing, fantastical art installations to give you an experience you've never had before. The Land of Fire And Ice near Grants, New Mexico is a place where you can see both a volcanic crater and mesmerizing ice caves right next to each other. It doesn't get much more awesome and unique than that.
Address: Origin at Rancho de San Juan, 49 de San Juan,, Ojo Caliente, NM 87549, USA