Here Are The 10 Most Dangerous Towns In New Mexico To Live In
Whether you're a New Mexico resident or a tourist passing through, it's a good idea to be informed about crime rates. These could be considered the 10 most dangerous cities in New Mexico based on these rates.
The good news is that overall murder rates in New Mexico have decreased in recent years, going down to 4.8 per 100,000 people—that's still a hair above the U.S. average of 4.5 murders per 100,000 people. However, the rate of robberies in the state consistently remains below the national average.
That being said, you're more likely to be a victim of crime in certain places in New Mexico. We've drawn data from Home Security Shield, because it ranks cities with populations above 5000, according to violent crime rates. The FBI combines the following offenses into the category of violent crime: murder and non-negligent manslaughter, forcible rape, robbery, and aggravated assault.
Update: Visit the Roadsnacks Most Dangerous Cities in New Mexico 2022 list for a more recent compilation, as data changes from year to year. Four cities from our list are included, with six that are different, including Gallup as the most dangerous town in New Mexico.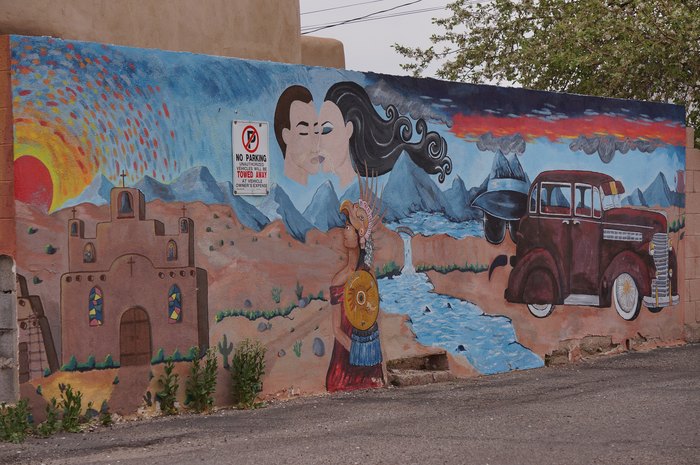 Are you surprised by any of the most dangerous cities in New Mexico on this list? Share your thoughts in the comments. On the opposite end of the spectrum, here are some of the safest places to live in New Mexico.
OnlyInYourState may earn compensation through affiliate links in this article. As an Amazon Associate, we earn from qualifying purchases.
More to Explore
Dangerous Towns In New Mexico
What is the worst place to live in New Mexico?
After you consider what makes the most dangerous places in New Mexico rank that way, you might also be wondering which town in the state is rated as the worst to live based on both crime rate and other statistics. According to multiple sources, Deming is at the top when it comes to a poor choice in living space. This is due to the high rate of unemployment, low-ranking education statistics, abundant abandoned properties, failing businesses, and a higher-than-average crime rate. It is the poorest town in the entire state, and probably not the most ideal spot to settle down.
What is the best place to live in New Mexico?
On the contrary, there are many cities and small towns in New Mexico that make absolutely fantastic places to live in. Los Alamos is often considered one of the best. Along with beautiful views of the Rio Grande Valley, it has exceptionally low crime rates, a high average income, good education rates, and plenty of things to see and do. Others might say places like White Rock, Corrales, and Hobs are also great options if you're looking for a place to plant your roots. There are many other spots that make the lists, but it is up to each individual person to decide the niche they fit in the best.
Is New Mexico a great place to live?
Even though there is crime in New Mexico, it is not alone - all places in the world have some level of crime, and when you look at the bigger picture, the Land of Enchantment ranks fairly well. Certain crime rates are below the national average and there are many scenic, quiet, and lovely towns and cities throughout the state that would be perfect for many people. Plus, New Mexicans enjoy some of the best chile in the world, amazing eats, a rich cultural history, stunning landscapes, and plenty of adventures to be had. There are tons of people who would say this state is a great place to live, and their sentiments ring true.
Related Articles
Featured Addresses

Silver City, NM 88061, USA