Cool Off This Summer With A Visit To These 7 New Jersey Waterfalls
Does anybody else search "waterfalls near me" when the weather gets warm? Us too! In the hotter months, we all definitely get sick of sweating through our shirts, but the good news is there are plenty of ways to get cool in New Jersey water parks, beaches, pools, and more. And one unconventional way to beat the heat? Visiting one of New Jersey's many stunning waterfalls. While you can't swim at many of them (definitely do your research online before prepping for a dip), they still will cool you down — whether it's the spray from the falls or the chills you feel at seeing such beauty.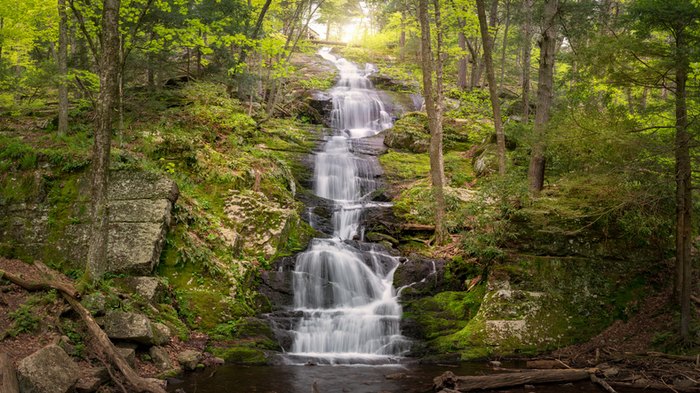 Which waterfall is your favorite?
Still searching for "waterfalls near me" in New Jersey? We thought you might be. Here's an epic road trip through the state sure to satisfy your waterfall-loving heart!
OnlyInYourState may earn compensation through affiliate links in this article.
More to Explore
Waterfalls Near Me
What is the most scenic hike in New Jersey?
The most scenic hike in New Jersey might just be found at Mount Tammany, on the Red Dot and Blue Dot Loop Trail. At about 2 hours and 20 minutes, this hike is an ideal length of time for an afternoon adventure. You'll find some amazing river views, babbling brooks, and many wide-open spaces in which to truly relax.
What is the most popular hike in New Jersey?
Some of the most popular destinations for hikers in New Jersey are the trails in the gorgeous Wawayanda State Park. You'll get to walk a beautiful loop around the lake while enjoying the lush greenery around the water. If you're looking for a real challenge, another great choice is the "Stairway to Heaven" hike in Sussex County, New Jersey. The climb to the peak is stunning, but it's definitely steep! Make sure everyone in your group is prepared for the hike.
What is the most family-friendly hike in New Jersey?
One of the best choices if you've got hikers of all ages in your group is Stony Lake Loop. You'll get to take a walk around the placid lake and enjoy views of two waterfalls along the way! This hike is perfect for both parents and little ones who love seeing water features.
Related Articles
Explore New Jersey