Here's The Perfect Weekend Itinerary If You Love Exploring New Hampshire's Waterfalls
There's something truly special about exploring New Hampshire's waterfalls. If you catch yourself wondering, "are there any waterfalls near me?" Well, you're in luck, because with more than 100 waterfalls in New Hampshire, chances are you're not too far away from one. And that's just the officially named waterfalls. We all know Mother Nature tends to improvise and create new things all the time. If you're ready for an adventure, gas up the car and get ready to take this epic road trip, exploring some of the best waterfalls in New Hampshire.
Here is a Google Map to help you plan your waterfall chasing adventure!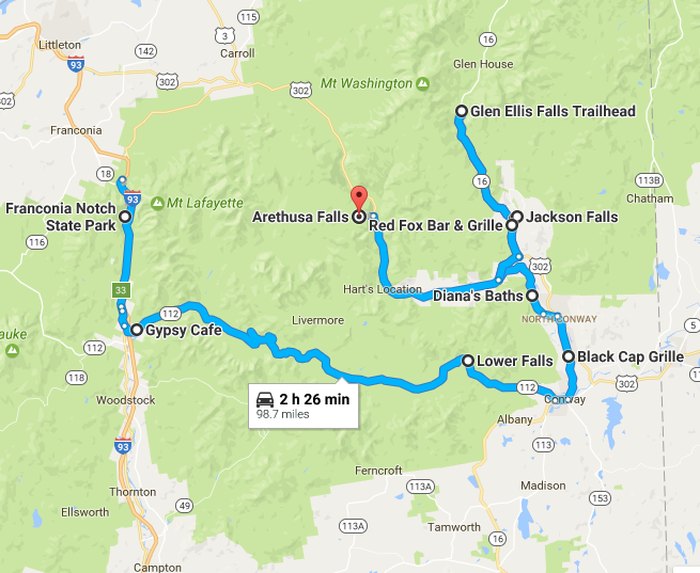 After you tackle all of these epic waterfall hikes, you'll be ready to hit the road and head back home to start planning your next trip. Check out this trip of a lifetime that can only be taken in New Hampshire!
OnlyInYourState may earn compensation through affiliate links in this article.
waterfalls near me
July 06, 2022
Are there any good swimming holes in New Hampshire?
Finding a good swimming hole in New Hampshire on a hot summer day can make you feel like you've won the lottery. Packers Falls in New Hampshire is a popular swimming hole with beautiful scenery and cool refreshing waters. When the water is calm enough, many folks enjoy the sights and sounds of Old Wilton Reservoir which might just be one of the prettiest waterfalls in New Hampshire.
What are the best hikes with a view in New Hampshire?
New Hampshire is full of beautiful hikes that end with a stunning view! The Glen Ellis Falls Trail is one of the best waterfall hikes in New Hampshire, and since the trail is less than half a mile long, it's a great hiking trail for families with little ones, too. For endless mountain views, you can't go wrong with the White Blaze Trail over at Pitcher Mountain, a simple out-and-back trail with breathtaking views of roaming hillsides, sprawling meadows, and enchanting forests.
What are the most beautiful lakes in New Hampshire?
New Hampshire might just have the most picturesque lakes in the entire country, and these cool waters attract everyone from beach bums to professional anglers from all over the country. Speaking of fishing, Bow Lake is a great spot to launch your boat and drop a line in to see if you can catch a prized largemouth bass. Of course, nothing compares to the largest lake in New Hampshire, Lake Winnipesaukee. With over 250 islands, this 71 square mile lake provides endless summer sun. There are plenty of cabins to rent if you want to spend a relaxing weekend enjoying the lake.
OnlyInYourState may earn compensation through affiliate links in this article.