This Haunted Tunnel In Nevada Is Not For The Faint Of Heart
We're usually a bit skeptical about most ghost stories, but this footage of this seemingly haunted tunnel sent chills down our spines (and naturally, we had to share).
This particular ore removal tunnel, known as the Horton Mine in Pershing County, Nevada, dates back to the 1800s. The eerie recording you're about to see occurred in 2013, and the phenomena was observed and filmed again in 2014. A spelunker with several years of experience exploring mines stumbled across this place unexpectedly while checking out the Victorine Mine out in Lander County. Horton Mine is located about 900 feet beneath it, at the bottom of a mountain, and was once used to remove the mined ore from above.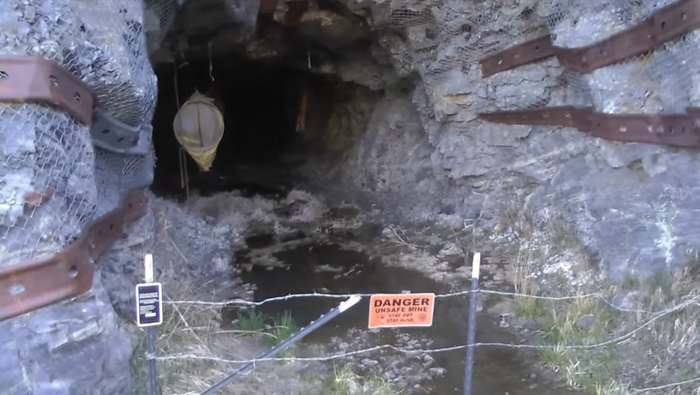 Some commenters across the internet point out that the YouTube video could have easily been faked, while others support the theory that it's definitely haunted based on the evidence presented. Either way, pretty much everyone agrees that it's a creepy tunnel that we all have very little remaining interest in exploring.
Interested in some more Nevada weirdness? Check this article out for some ideas for a "weird Nevada" road trip!
OnlyInYourState may earn compensation through affiliate links in this article.
Address: Pershing County, NV, USA
Haunted Tunnel In Nevada
March 05, 2021
What are some scary places in Nevada?
Nevada is a truly interesting state with a lot of spooky lore surrounding it. It's not hard to find places that will definitely creep you out. According to word on the internet, Nevada is the 3rd most haunted state in the US, and honestly, we're not surprised. In some cases, there are entire towns that are ridiculously haunted, like Pioche, Nevada. In the 1870s, Pioche was the place where an incredible 80% of all homicides in Nevada were taking place. It was truly lawless and ridiculously violent, and today, ghosts from those days are still said to roam about the town. The Boulder Dam Hotel is a super-haunted historic hotel in Boulder City, dating back to the 1930s. The hotel is well-known for its ghosts, and guests often report crazy-creepy goings-on on a regular basis.
Are there any abandoned mines in Nevada?
Nevada is home to an incredible 200,000 abandoned mines. Of those, about a quarter pose serious threats to the safety of anyone brazen (or perhaps foolish) enough to enter them. Many of them are alleged to be haunted, and still more are attached to ghost towns. You can even stay the night at some of them, such as this one in Gold Point.
What are some ghost stories in Nevada?
Nevada is home to countless legends and ghost stories. The oodles of historic places and buildings hearkening back to the wild, wild west are just begging to have ghost stories entwined in their history, and do they ever. Even buildings like the Governor's Mansion itself aren't safe from allegations of ghosts, and more hotels than we can count would make the list, too. Nevada is something like a ghost hunter's dream, as no matter where you go, you're bound to be spooked by something.