This Mouthwatering Ice Cream Trail In Eastern Nebraska Is All You've Ever Dreamed Of And More
With temperatures firmly in the "I'm pretty sure my body is about to burst into flames" range, we've got one thing on our minds: cooling off. But if you've developed cabin fever from staying inside to enjoy the air conditioning, a nice big ice cream cone can be just the thing. And if one ice cream cone is good, 10 ice cream cones are even better, right?
This ice cream trail isn't meant to be a complete list of awesome ice cream places in eastern Nebraska – it's just a few favorites in the Omaha and Lincoln area, arranged into a mini road trip that you can complete in a few hours. Click here for an interactive map where you can get complete directions and add or delete stops.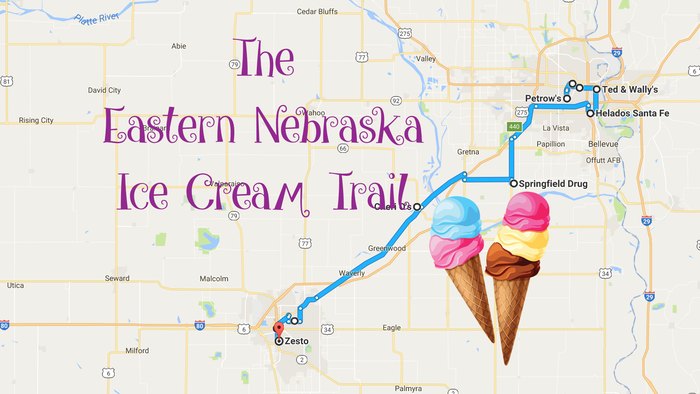 Well, that seems like just about enough ice cream for one day. There are certainly other ice cream joints in the area that wouldn't fit onto this short mini road trip. Don't see your favorite here? Don't worry – add your favorite picks in the comments, then use the link at the top to plug in your own stops on this frozen adventure to make it your own. And if you don't live around eastern Nebraska, be patient; future installments will have us visiting ice cream joints in other parts of the state.
If, for some unknowable reason, you're just not that into ice cream, maybe you'd prefer to travel around the state to try these 18 awesome reubens.
OnlyInYourState may earn compensation through affiliate links in this article.