10 Of The Best Cabins In Nebraska For An Unforgettable Stay
Getting away for a cabin vacation is where family memories are made, after all. If you're not really into all of the work involved with camping, don't like the idea of sharing walls with neighbors in a hotel, and aren't lucky enough to own an RV, renting a cabin is just right. In fact, even if you love camping and hotels and own an RV, these are some of the best cabins in Nebraska so you may find yourself choosing them for your next adventure anyway.
Affordable Cabins in Nebraska
Nebraska is such a beautiful open landscape of rustic charm, the prairies of the Great Plains, and farmland. Our first two vacation rentals are right in the heart of Nebraska's lush farmland. And they offer some of the most peaceful and beautiful stays in the state.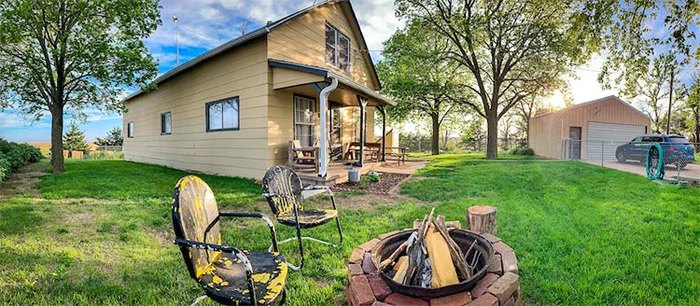 Luxury Cabins in Nebraska
When you want your family vacation to feel like home (or even a luxury upgrade) these two luxury cabins for rent in Nebraska will do the trick.
Romantic Cabins in Nebraska
Known for its quiet retreats, Nebraska is a great place to re-kindle a little bit of romance under the wide-open star-filled sky. Perhaps by a small creek with a crackling fire in the fire pit and a glass of something sparkly, well you get the picture. Or, maybe you'll enjoy one of the most unique cottage rentals in Nebraska…
Secluded Cabins in Nebraska
Normally when you think about a secluded cabin, a run-down rustic cabin comes to mind. But Nebraska is better than that. These two secluded cabins are pretty darn nice with all of the amenities of home.
Cabins in Nebraska with Hot Tub
It might surprise you but the number of Nebraska cabins with hot tubs are few and far between. The good news is that we were able to hunt down a couple of pretty cool vacation rentals that we think you'll really love.
A peaceful cabin getaway along the Missouri River, or near the Nebraska National Forest where you can enjoy hiking trails, birdwatching, outdoor recreation, and maybe even a little paddle boating on your own private lake is just about perfect. If you are looking for a weekend getaway in a cozy cabin for two, or a nice family vacation spot, we hope some of these featured cabins are what you are looking for. If you have found some amazing cabins in Nebraska please share them with a comment. We can always add them to our best cabins in Nebraska list.
Let's do a quick recap. Book one of these 10 best cabins for rent in Nebraska:
Best Cabins In Nebraska
7. Beaver Crossing Country Cabin
8. Gracie Creek Cabin
OnlyInYourState may earn compensation through affiliate links in this article.
More cabin rentals in Nebraska
January 06, 2023
Where can I find secluded cabins in Nebraska?
Nebraska is a wonderful state to find secluded cabins for rent. With wide-open prairies, state parks, and beautiful lakes to set up vacation cabins, there are plenty of secluded cabins to enjoy. For example, Chadron State Park, Indian Cave State Park, and Platte River State Park are only a few of the wide open spaces to get away from busy city life. Here are a few secluded cabins in Nebraska to check out: 1.
RuJoDen Ranch
, Pine Ridge, NE 2.
Hygge Tiny House
, Near Ponca State Park 3.
Willow Valley Ranch
, Burt County, NE
How much do cabin rentals cost in Nebraska?
Cabins in Nebraska are fairly mid-range compared to other states. While you can find some affordable cabin rentals in the low to mid $100 a night, many are typically over $200 a night. That's not to say the high-end is all that high either unless you are looking for a luxury home rental near Omaha or Lincoln. Here is a list of nice
cabin rentals under $300
, which is where most of them lie.
Are there pet-friendly cabin rentals in Nebraska?
There are definitely some pet-friendly cabin rentals in Nebraska. With such wide open spaces, it's the perfect getaway to include your doggies who love a little outdoor adventure now and then. From playing by the lake, running by the river, or having a whole farm to explore we are pretty sure they will love coming with you on your Nebraska vacation. Here are a few cabin rentals that allow pets: 1.
Kinsman Lodge
, Niobrara, NE 2.
Prairie Lake Cabin
, Lonergan, NE 3.
Eagles View
, Cedar County, NE