18 Best Hikes In Montana: The Top-Rated Hiking Trails To Visit In 2023
Get ready for an adventure in Montana's wilderness! We've handpicked 18 absolute best hiking trails in the state, from jaw-dropping mountain panoramas to hidden alpine lakes and everything in between – Montana's got it all for hikers of all levels. Whether you're a seasoned trailblazer or just starting out, these top-rated picks will have you itching to hit the trails. So, grab your hiking gear, pack some snacks, and dive into the best hikes in Montana.
Best Hikes in Montana
Take on a Montana adventure with the best hikes in the state. Experience the crystal-clear waters of Avalanche Lake, marvel at the vibrant colors of Grand Prismatic Hot Spring, and trek along the thrilling Highline Trail. These hikes promise fun memories and spectacular scenery, making your Montana trip truly remarkable.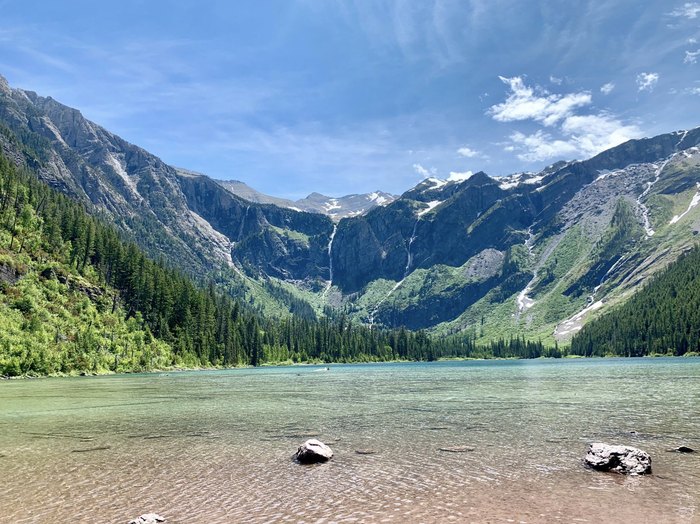 Best Short & Easy Hikes in Montana
Seek out the best short and easy hikes in Montana with Trail of the Cedars, Artist Point, and Grinnell Lake. These trails offer accessible and enjoyable experiences for hikers of all levels.
Hardest Hikes in Montana
Challenge yourself with the hardest hikes in Montana: Bridger Ridge Trail, Black Mountain, and The Garden Wall. These thrilling trails test your skills and endurance while rewarding you with awe-inspiring views and a sense of accomplishment. Conquer these epic adventures in Montana's rugged wilderness.
Best Waterfront Hikes in Montana
Experience the best waterfront hikes in Montana with Hidden Lake Overlook, Iceberg Lake, and Redrock Falls. These trails lead you to stunning lakes and cascading waterfalls, offering unforgettable views in a peaceful setting.
Best Winter Hikes in Montana
Gear up for some awesome winter adventures in Montana with the best winter hikes. Hit the trails at Silver Crest Cross-Country Ski Trails, Bannock Ski Trail, and California Creek Loop. Whether you're into cross-country skiing, snowshoeing, or just hiking in the snow, these trails have got you covered. Get ready to explore the winter wonderland of Montana and have a blast in the snowy outdoors.
Best Hikes near Helena
Hit the trails and get ready for the best hikes near Helena. Don't miss out on the 1906 Trail, Mount Ascension, and Mt Helena Via Powerline Trail. These hikes have it all – awesome views, rocky terrains, and loads of outdoor fun.
Have you enjoyed any of these Montana hiking trails? Think they are some of the best hiking trails in Montana? Which do you think are the best places for hiking in Montana? Let us know your top picks in Big Sky Country – we'd love to hear from you!
Whether you're looking for a challenging hike with switchbacks up a mountain range or a day hike through alpine meadows, this hub has everything you'll need, and be sure to Try AllTrails+ For Free!
OnlyInYourState may earn compensation through affiliate links in this article. As an Amazon Associate, we earn from qualifying purchases.
More to Explore
The Best Hikes In Montana
Does Montana have good hiking trails?
Montana's best hiking trails include:
Beehive Basin Trail No. 40
Continental Divide Trail Overlook #146 via Targhee Pass in Custer Gallatin National Forest
Ousel Falls Park Trail
Lava Lake Cascade Creek Trail
Ptarmigan Tunnel
The "M" Trail in Missoula
St. Mary and Virginia Falls Trail
Swan River Trail in Bigfork
Holland Lake and Falls
Danny On National Recreation Trail in Flathead National Forest
Whitefish Trail - Woods Lake - Dollar Lake - Little Beaver Lake
What are the best months to hike in Montana?
Summer in Montana (July–August) is the ultimate time for hiking. It's super family-friendly, and once the snow melts, you can easily drive into the wild, making it the peak season for the state. Get ready for some epic adventures and good times under the sun!
Related Articles
Explore Montana
Featured Addresses