Most People Have No Idea This Unique Tunnel In Minnesota Exists
There are quite a few tunnels in Minnesota. However, if you find yourself way up north, past Two Harbors on the North Shore, it's the Silver Creek Cliff Tunnel you'll likely drive through.  A scenic tunnel on highway 61, it goes 1,344 feet through Silver Creek Cliff, and was only finally completed in 1994 to prevent drivers from having to take the treacherous route near the cliff's edge, or a detour several miles inland that was used prior to the 1920s.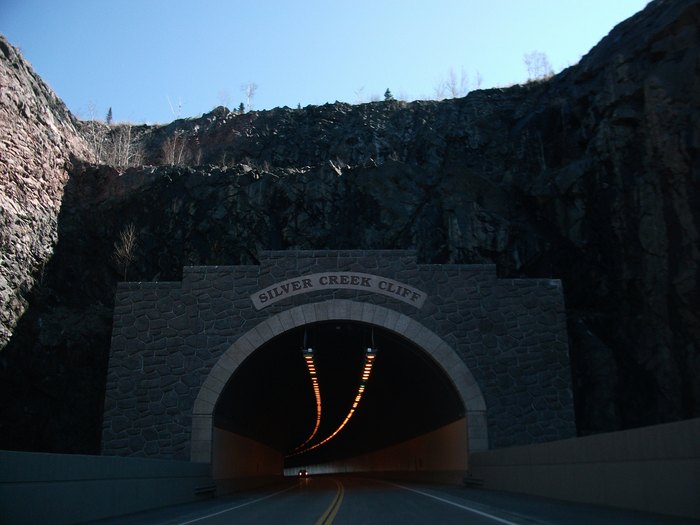 So, did you know about the Silver Creek Cliff Tunnel? Do you remember driving on the old highway 61 route around Silver Creek Cliff prior to the construction of the Silver Creek Tunnel?
Now that we've taken a closer look at Silver Creek Tunnel, let's switch gears a bit and admire another feat of engineering, the railroad. We know just the place, too: an abandoned section of railroad that's actually been transformed into one of the most unique hikes in Minnesota.
OnlyInYourState may earn compensation through affiliate links in this article.
Address: Silver Creek Cliff Tunnel, Silver Creek Township, MN 55616, USA
Silver Creek Cliff Tunnel
October 11, 2022
Which hidden gems in Minnesota should I visit?
The Silver Creek Cliff Tunnel is just one of many hidden gems in Minnesota. There are so many others, including Niagara Cave. Located in Harmony, the subterranean wonder was first discovered in the 1920s. Today, it's one of only a couple of accessible caves in Minnesota. Guided cave tours are offered regularly and allow for the general public to experience the cave firsthand. Sure to result in an unforgettable adventure, the cave features numerous passageways, a stream, waterfall, and fossils that date back millions of years. Franconia Sculpture Park in Shafer is another of the amazing hidden gems in Minnesota just waiting to be explored. Easily one of the most unique parks in Minnesota, Franconia Sculpture Park spans dozens of acres and features hundreds of pieces of artwork.
What are the coolest attractions in Minnesota?
The coolest sites and attractions in Minnesota aren't limited to the Silver Creek Cliff Tunnel. The state is practically overflowing with unique sites and must-visit attractions, including the Wabasha Street Caves in St. Paul. Easily one of the coolest attractions in Minnesota, the cave system, which was carved into the hillside for mining purposes in the 1800s, is touted as the "only remaining restored Gangster Era site" in the state. Today, the Wabasha Street Caves are open for tours, allowing for the public to venture through the tunnels and experience the past firsthand.