The Chutes And Ladders Playground In Minnesota That's Perfect For A Family Adventure
When it's a beautiful day, it's a great opportunity to take the kids outside to a park in Minnesota for fun playground excursions. You will find that there are plenty of inventive playgrounds throughout the state. Stillwater's teddy bear-themed playground is fun for kids of all ages, as is the woodland-themed jungle gym at Lake Rebecca Park Reserve. Today, let's add one more wonderful Minnesota playground to the list. In Bloomington, a Chutes and Ladders playground is the perfect spot for a fun family outing. Take a look at Hyland Play Area, a wholly unique playground in Minnesota…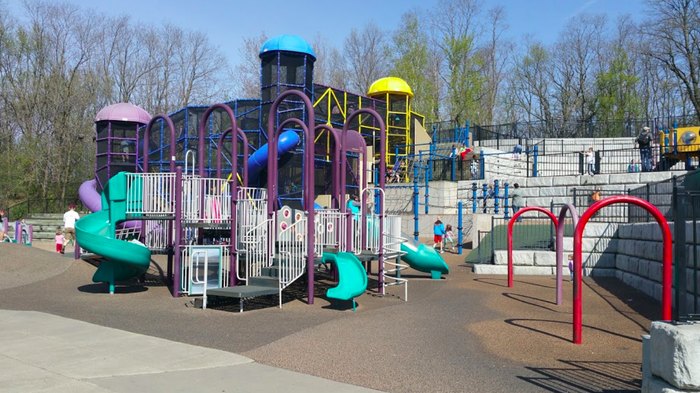 Have you been to the Hyland Play Area? If so, what was your or your kids favorite part? We'd love to see you playful photos and hear about your experience there in the comments section. For more information on this unique playground in Minnesota, check out the website.
If you're into exploring off-the-beaten-path playgrounds and unique things to do in Minnesota, you're in luck! Here are 10 secret parks in Minnesota that are a ton of fun for the young… and the young at heart!
OnlyInYourState may earn compensation through affiliate links in this article.
Address: Hyland Play Area, 10145 E Bush Lake Rd, Bloomington, MN 55438, USA
Unique playground in Minnesota
December 09, 2021
What's another unique playground I can visit in Minnesota?
Sometimes, there's nothing more fun for kids than running around a playground. And it's fun for adults, too! After all, playgrounds provide free entertainment that kids love. What better way to get them to burn up energy while you cheer them on from the sidelines? In Golden Valley, Minnesota, there's one playground where those cheers will be well-earned. It's an obstacle course playground that has enough places to wriggle through, climb, and weave around that your kid will be ready for an episode of Ultimate Ninja Warrior. Sound good? Check out this article to learn about all you'll find at Schaper Park!
Are there any indoor playgrounds in Minnesota?
It's not always feasible to visit an outdoor playground, especially in the throes of a Minnesota winter or dreary spring day. That's why our beautiful state has several excellent indoor playgrounds that will keep you comfortable no matter whether the sun is scorching or the snow is falling. One of our favorites is a jungle-themed playground in Shoreview, Minnesota, that is insanely fun. Tropical Adventure Indoor Playground is a fun spot that kids will love. It's found inside of the Shoreview Community Center. This big playground has everything your little ones need to have a good time. Trees, clouds, and a tall giraffe add to the colorful theme. There's even a raised hut that will make your kids feel like they're on a jungle adventure, all but guaranteeing that your kids will be worn out after an afternoon at this epic indoor playground in Minnesota!
What are some family-friendly places to visit in Minnesota?
While each of the 62 Minnesota state parks is incredible, there is much more to see in our beautiful state. In every region of Minnesota, there are lesser known parks that wait to be discovered. Each boasts its own unique beauty, with paths, lakes, and wildlife galore. Looking for some family-friendly places in Minnesota? Here are 10 of Minnesota's most amazing, top-secret parks. Some may be a bit off the beaten path, but they're all totally worth it. Families especially will love Quarry Park and Nature Preserve. Though it's popular among locals, this park isn't too well known in other parts of Minnesota. The 683-acre park has just about every kind of nature you can imagine: thick forests, jagged cliffs, and crystal-clear water. Popular activities include hiking, swimming, climbing, and even scuba diving. In the fall, the changing leaves make this park especially beautiful.