This Adventure Park in Minnesota Has The Longest Zipline In The State
Minnesota is full of outdoor adventure, and there's one place that soars (quite literally) above the rest. If you're looking for an adrenaline-pumping outdoor adventure in Minnesota, the Kerfoot Canopy Tour may be exactly what you need. This adventure park in Minnesota features the longest zipline in the state, offering breathtaking, birds' eye views of the Land of 10,000 Lakes. It's equal parts exhilarating and beautiful, and you have to check it out.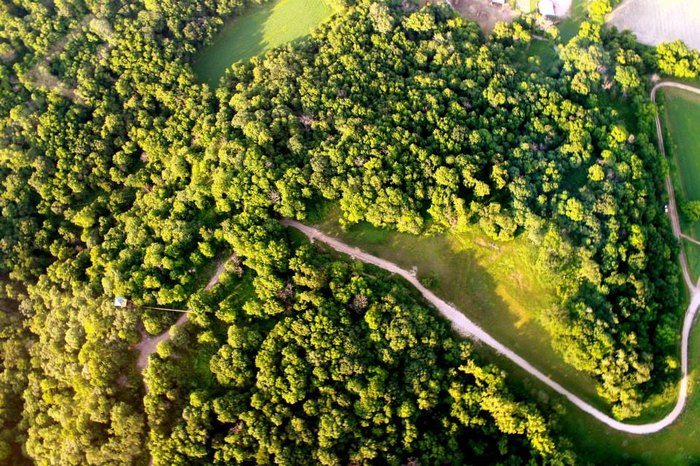 Not quite convinced about this Minnesota adventure park? Check out this amazing video of a Kerfoot Canopy Tour taken by a drone:
Kerfoot Canopy Tours is located at 30200 Scenic Byway in Henderson, Minnesota. To find out more about this incredible outdoor adventure park — or make a reservation to fly! — visit the Kerfoot Canopy Tours website,
OnlyInYourState may earn compensation through affiliate links in this article.
Address: Kerfoot Canopy Tour, 30200 Scenic Byway Rd, Henderson, MN 56044, USA
Minnesota Adventure Park
January 27, 2021
What's another Minnesota adventure park?
While not an adventure park, per se, there's one incredible park in Minnesota that has all the features of an adventure park. Mille Lacs Kathio State Park is a lesser known park in central Minnesota. One of the best and most adventurous things you can do here is the half-mile Touch the Earth Trail. Follow the trail to a 100-foot-tall fire tower, then start your ascent. Make the trek up this tower, and you'll get an up-close view of the forest trees. Climb a little higher, and you'll have an incredible view. You'll want to go slowly. There are many steps, and there is an incredible view from each and every one. It's basically the best natural adventure park ever.
Where is the best place to hike in Minnesota?
The Land of 10,000 Lakes is full of hiking trails! And these trails are for anyone -- not just the pros. We especially love the Circle Trail at Pipestone National Monument. This 281-acre area is home to sacred quarries from which Sioux people have gathered ceremonial pipestone for many centuries. Visitors can walk the 3/4-mile paved trail through the grounds. Pink quartzite rock formations rise above the trail, which leads to the beautiful Winnewissa Falls before ending back at the visitor center. It's stunning.
Is Minnesota a good place for outdoor adventures?
Absolutely! If you're feeling a little restless at the end of winter, or at least looking for a new experience, or a thrill, there are plenty of places in Minnesota that will satisfy your adventurous spirit! From stunning hikes to underground excursions, the Land of 10,000 Lakes is truly a place for adventurers. If you're into caves, head to Niagara Cave for some epic underground exploration. Prefer the water? Go kayaking on the Kettle River! Nothing says 'adventure' quite like white water.