This 275-Mile Road Trip Leads To Some Of The Most Scenic Parts Of Minnesota, No Matter What Time Of Year It Is
There are many fun trips that you can take all across Minnesota. In the past, we've created a burger trail, a thrift store road trip, and even a train-themed road trip. For nature lovers, we've covered waterfalls and the spectacular sights of the North Shore. But there's still so much left to discover. That's where today's road trip comes in.
We created a 275-mile road trip that will take you to some of the most scenic parts of Minnesota, no matter the season. It covers an area of Minnesota around the Twin Cities, with a focus on stops that are just south or east of the metro. Read on below to learn about this fun, beautiful road trip.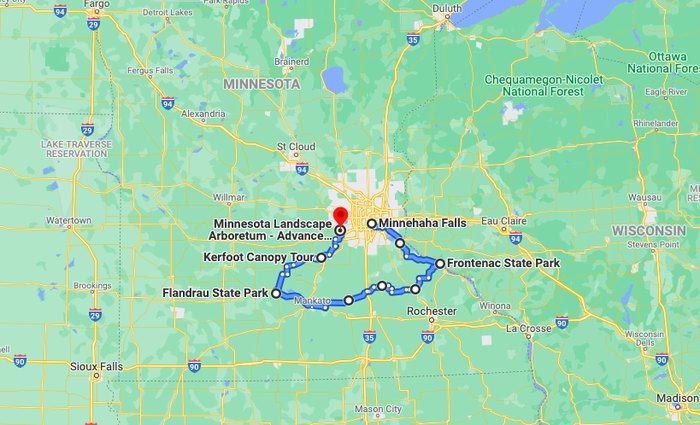 What do you think? Would you add anything else to this road trip? Let us know in the comments or by filling out our nomination form! And if you'd like to see directions and follow the route, you can check out the map here.
OnlyInYourState may earn compensation through affiliate links in this article.
Address: Minnehaha Falls, Minneapolis, MN 55417, USA
Address: Vermillion Falls Park, 215 21st St E, Hastings, MN 55033, USA
Address: Frontenac State Park, 29223 County 28 Blvd, Frontenac, MN 55026, USA
Address: Zumbrota Covered Bridge, Unnamed Road, Zumbrota, MN 55992, USA
Address: Nerstrand Big Woods State Park, 9700 170th St E, Nerstrand, MN 55053, USA
Address: Sakatah Lake State Park, 50499 Sakatah Lake St Park Rd, Waterville, MN 56096, USA
Address: Flandrau State Park, 1300 Summit Ave, New Ulm, MN 56073, USA
Address: Kerfoot Canopy Tour, 30200 Scenic Byway Rd, Henderson, MN 56044, USA
Address: Minnesota Landscape Arboretum - Advance Reservations/Tickets Required, 3675 Arboretum Dr, Chaska, MN 55318, USA