This Michigan Beach And Waterfall Will Be Your New Favorite Paradise
Do you consider yourself to be a waterfall enthusiast? Have you often wondered, "what are the best waterfalls near me in Michigan?" If so, we've got some great news for you! You might think you've explored all of Michigan's breathtaking waterfalls, but there's one marvelous destination that might have slipped under your radar. If you're ready for a magical outdoor adventure that will surely delight the whole family, venture to this one-of-a-kind beach and waterfall in the Great Lakes State. It's impossible not to be enchanted.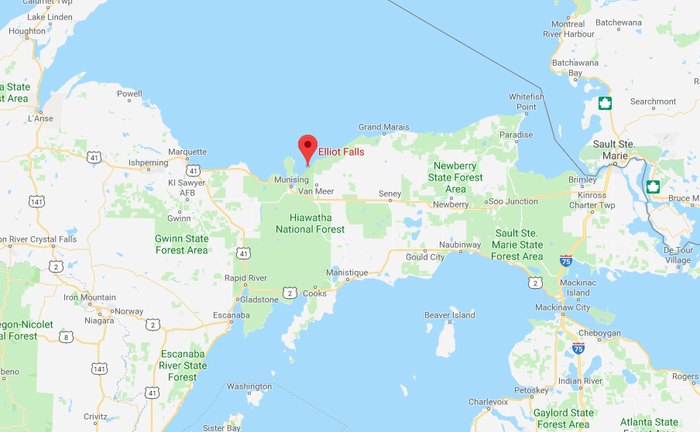 Address: Miners Beach Road, Munising Township, MI 49862
We hope we've provided a little inspiration the next time you go to search "waterfalls near me in Michigan." Have you ventured to Elliot Falls during previous northward trips? Are there any other beachfront waterfalls that should be brought to our attention? Be sure to share your thoughts with us below! For a more comprehensive list of Michigan's best waterfalls, click here to check out a previous article.
OnlyInYourState may earn compensation through affiliate links in this article.
Address: Miners Beach, Miner Rd, Shingleton, MI 49884, USA
waterfalls near me in Michigan
September 10, 2021
Does Michigan have any secluded waterfalls?
You may think you've discovered every single waterfall in Michigan, but the truth is, several of them are actually hiding in plain sight! The following is a list of incredible Michigan waterfalls that may have flown under the radar. And the best news of all is that no hiking is required to view them! These destinations include Sable Falls within Pictured Rocks National Lakeshore, Ocqueoc Falls near Millersburg, Munising Falls on Lake Superior, Spray Falls within Pictured Rocks National Lakeshore, Gabbro Falls in the Black River area, Miners Beach Falls in Pictured Rocks National Lakeshore, Wagner Falls in Munising, and Black River Falls in Marquette County. Learn more about planning your visit to these secluded waterfalls in Michigan.
Where can I find hidden beaches in Michigan?
One of the best parts about living in Michigan is the opportunity to access a multitude of beautiful beaches. While Michigan may not be located on the coast, you'll find that the state boasts some of the most incredible shorelines in the entire world! Need further proof? Check out any of the following pristine beaches hidden throughout the state: Sand Point Beach in Munising, Oscada Beach Park, Olive Shores, Kirk Park, Oak Beach County Park, Christmas Cove Beach, Haserot Beach, Fisherman's Island, and Twelmile Beach. How many of these hidden beaches in Michigan have you experienced?
What are some secret swimming spots in Michigan?
When the weather is warm, there's nothing quite like discovering a secret swimming spot. And fortunately, Michigan has lots of them! One of the most unique is located in Marquette. Black Rocks is a fascinating attraction located right on Superior. It's here that visitors can enjoy the water and take a refreshing dip. Other swimming spots worth checking out include Torch Lake, Ocqueoc Falls State Forest Campground, Laketown Beach, and Warren Dunes State Park. Learn more about these little-known swimming holes in Michigan.