Take This Gorgeous Fall Foliage Road Trip To See Michigan Like Never Before
Fall in Michigan brings the promise of so much more than just the changing colors of the trees. It also means fall festivals and everything pumpkin-spiced and colorful. It's a season that offers a unique set of sensory treats, from a color palette brimmed with scorching reds, golds, and oranges to the olfactory delight of drying leaves. Autumn in Michigan is also the perfect time to take a road trip to experience these things firsthand. Michigan is so big that, with the help of PureMichigan, we've put together three regional road trips where you can delight in the new fall colors, smell the leaves and experience some local flavors. Pick the road trip nearest you and enjoy the best fall foliage in Michigan!
ROAD TRIP #1: UPPER MICHIGAN
We call this the "Lighthouse and Parks Fall Foliage Excursion." If you love Michigan lights (who doesn't?) and have an affinity for the great outdoors, then you'll love this fall foliage road trip in the UP. Here's a link to the Google Map that you see below. Have fun!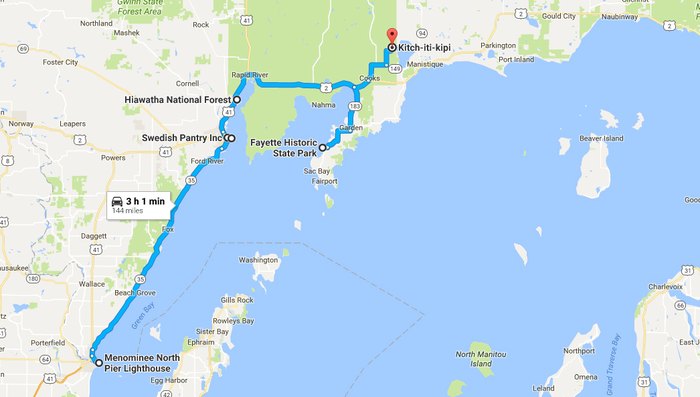 Autumn in Michigan offers stunning vistas and amazing color transformations. Take any of these three amazing road trips to enjoy the most splendid fall colors in Michigan. These routes will take you to the best fall foliage in Michigan and show you the best our state has to offer this season.
What are your favorite things to do in the fall in Michigan? We'd love to know in our comments!
OnlyInYourState may earn compensation through affiliate links in this article.
Best Fall Foliage In Michigan
August 15, 2019
What is the best time to see peak fall foliage in Michigan?
Fall colors first arrive in Michigan in mid-September and last until the end of October. The upper peninsula sees autumn colors before the rest of the state, but the exact dates vary year to year. 
Where are the best places in Michigan to see fall foliage?
The Leile Arboretum, located in Battle Creek, is the perfect place to experience Michigan's amazing fall colors. Albion College is another place to visit when you're craving a bit fall scenery. You'll also see stunning sights at the Michigan State Capitol. 
What are the best Michigan hikes to take in the fall?
The Porcupine Mountains waterfall hike, located in Bessemer, is a fabulous autumn hike. Along this 11-mile journey, you'll see breathtaking trees and feel the crisp autumn air. Chapel Loop in Pictured Rocks National Lakeshore is another beloved fall hike. This 6.5-mile loop is packed with incredible sights. Bring your camera! You'll want to document every last bit. The Tahquamenon Falls Trail is also worth exploring. This trail is a bit shorter, only 4.5 miles long, and it looks especially colorful in the beginning of October.