Keep Your Eyes Peeled, Thousands Of Hummingbirds Are Headed Right For Massachusetts During Their Migration This Spring
While winter is dark and gloomy outside in Massachusetts, the welcome signs of spring are something to look forward to. One of the best ways to get outside and relax is to sit and watch the birds fly by. While the Bay State is home to tons of birds, there's nothing like hummingbirds in the springtime. So, when will hummingbirds arrive in Massachusetts? What is the deal with hummingbird migration in Massachusetts? Thousands of these beautiful, tiny birds will migrate north and make their way through here around mid-April.
Hummingbirds are some of the most fascinating birds in the world, with over 300 unique types. Only about a dozen migrate to the U.S. and Canada, but that migration is coming up quickly, so you'll want to keep your eyes peeled. Let's take a look at the predictions for the next hummingbird migration in Massachusetts because they will be here soon, and you'll want to know what to look out for and when to have your feeders ready.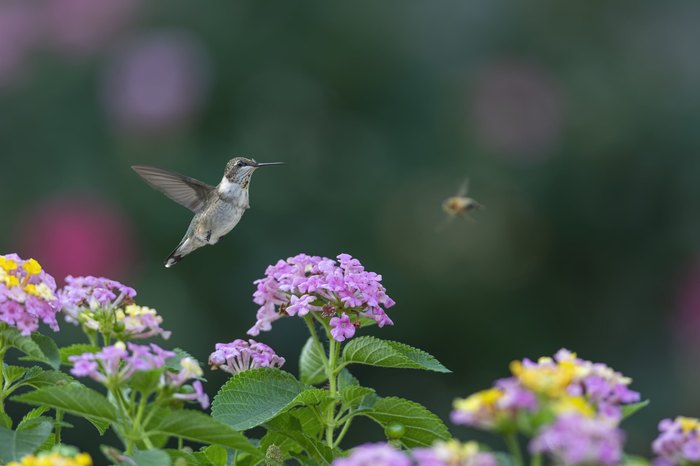 Have you been wondering when will hummingbirds arrive in Massachusetts? Have they visited your yard in previous years? We'd love to hear about your experiences in the comments, and don't forget to then go share photos from your Massachusetts bird sightings with us in our Massachusetts Nature Lovers group on Facebook, or by tagging us at #onlyinmassachusetts on Instagram for a chance to be featured!
To learn more about these beautiful birds, check out this video:
OnlyInYourState may earn compensation through affiliate links in this article.
Hummingbird Migration in Massachusetts
February 27, 2023
What types of hummingbirds are in Massachusetts?
Learning about hummingbirds in Massachusetts is easy because typically there is only one type - the Ruby-throated hummingbird. They are so beautiful to look at because of their stunning green backs and the ever present ruby red throat in the males. The females weigh about 0.13 ounces, while the males weigh about 12 ounces.
When should I hang a hummingbird feeder in Massachusetts?
Since hummingbirds arrive in Massachusetts around mid-April, the best time to hang a hummingbird feeder is about a week or so before that. Place it high enough so that your family pets and other animals can't reach it and if you have a garden with plants that attract  hummingbirds, they will love you for it!
Is it safe to feed hummingbirds in Massachusetts?
There are currently no official warnings against feeding hummingbirds in Massachusetts.  However, it is a good idea to clean the feeder a few times during their migration time to help protect them against catching any viruses. If you have little ones around, get them involved. Kids love to fill up the feeders and watch the hummingbirds flit in and out to feed on all of that delicious nectar! If you have binoculars, you can get an up close and personal view.