This Natural Wonders Road Trip Will Show You Massachusetts Like You've Never Seen It Before
Road trips are awesome, but unless you're the kind of person who enjoys logistics, planning them can be a bit of a hassle. Luckily, we've done all the legwork so you'll never have to Google "What are some natural wonders in MA?" again. If you want to experience some of the most beautiful natural wonders in MA, without the headache of planning your route, one of the best MA road trips is for you.
You can tackle this road trip in Massachusetts any way you want. Start at the beginning and visit each site, or hop on somewhere in the middle. The entire adventure takes about 12.5 hours total, but unless you love whizzing by beautiful places without stopping, you'll want to dedicate an entire weekend to exploring some of the most beautiful places in MA. 
Before heading out, check out the road trip and directions on Google Maps.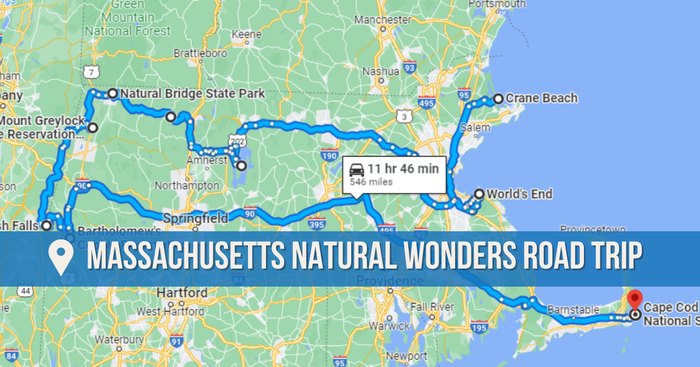 Interested in discovering more of the most beautiful places in MA? Check out this YouTube video by Vacationsgram to see some of the top places to visit in the Bay State:

There are so many more natural wonders in MA, and this road trip only scratches the surface. Still, you can't go wrong visiting all these spectacular sites. Would you add any other beautiful places in MA to this road trip? Let us know in the comments! You might also want to visit 10 man-made wonders in Massachusetts.
Don't forget to nominate your favorite natural wonders in MA for a chance to see them featured in an upcoming article!
OnlyInYourState may earn compensation through affiliate links in this article.
More to Explore
Natural Wonders In Massachusetts & Related Info
Are there any natural wonders in MA?
There are many natural wonders in MA, including:
The natural lake just might be the most underrated natural wonder in all of Massachusetts. It boasts clear, clean water, and spans more than 350 acres. It's an ideal spot for swimming boating, and fishing.
Boston Harbor Islands National & State Park in Boston
Comprised of a collection of islands, this landmark attractions boasts a rich history and plentiful outdoor activities.
What are the most picturesque hiking trails in Massachusetts?
Many of the most relaxing places in Massachusetts can be found along its hiking trails. Some of the most picturesque hiking trails in MA are:
Spanning just over three miles, this hike and features such picturesque scenery as a shimmering lake, perfect for snapping photos.
This easy hike takes you through lush forest, along a boardwalk, past flowing streams and ponds, and to a cascading waterfall.
What are the best outdoor activities in Massachusetts?
Some of the best outdoor activities in Massachusetts include:
The treetop adventure course is ideal for adventure seekers seven years and older. The ropes course features wooden bridges, rope ladders, and ziplines.
Boasting 400 campsites this state park lets visitors pitch a tent or rent a yurt - and don't forget swimming gear. The state park is home to a sandy beach that leads into the cool water.
Related Articles