There's Nothing Better Than Massachusetts' Natural Lazy River On A Summer's Day
There's no better remedy for a hot, sticky summer afternoon than spending some time relaxing by the water. Or in this case, on the water. There is a lazy river in Massachusetts that is the ultimate way to cool off and banish stress. Grab your inner tube and read on to learn more about how you can experience this amazing summer activity.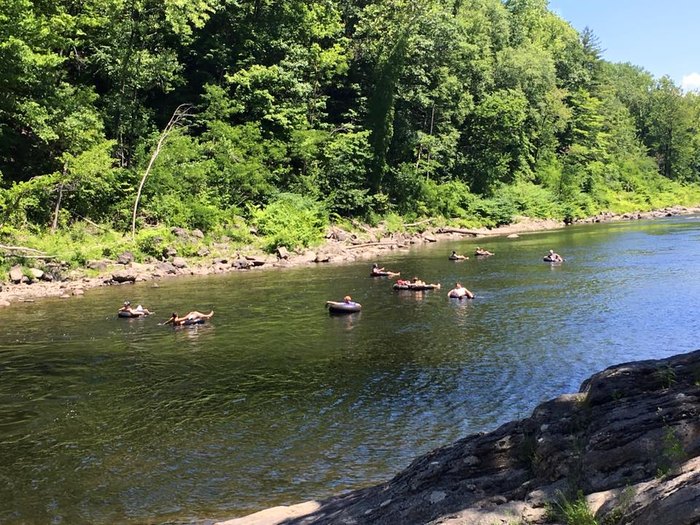 You can also opt to bring your own equipment for a lower price. This experience will still allow you to have safe and easy transportation to and from the river, plus a place to park your car.
If no-frills fun is more your style, go ahead and simply rent a tube and hop in the water. You'll need at least two vehicles to make this option viable, as you'll need a way to get back to where you originally parked once you float down the river.
Be sure to bring plenty of sunscreen and sturdy footwear that you don't mind getting wet. You'll want some water and snacks with you on the water, so pack a cooler. It's also a good idea to pack your cell phone in a thoroughly waterproof container.
Check out the Deerfield River Portage website here for more information and to book your float! If you're looking for more summer day trip ideas, check out our list of the best ones in the state.
OnlyInYourState may earn compensation through affiliate links in this article.
Address: Deerfield River, United States
Lazy River In Massachusetts
June 14, 2021
What is the hottest month of the year in Massachusetts?
If you're looking for the perfect weather to participate in some fun outdoor recreation in Massachusetts, especially involving tubing, we recommend opting for the hottest month of the year, July. In July, Massachusetts usually averages about 82 degrees, making it prime time to head to the beach or to your nearby river. Just be warned, the beaches in Massachusetts tend to be packed during July, so plan accordingly. You can also stay refreshed in July by visiting these 8 exciting Massachusetts water parks!
What are the most beautiful beaches in Massachusetts?
When warm weather hits, everyone starts planning a trip to the coast in order to enjoy some beautiful Massachusetts beaches. If you're looking for a few hidden gem beaches to explore this summer, you're in luck. There are plenty of options to check out beyond the more touristy parts of the coast. For instance, Bound Brook Island Beach in Wellfleet is one of the best-kept secrets along the coast. Meanwhile, Halfmoon Beach in Gloucester is a gem, albeit a smaller beach. Yet, it still is a charming place to picnic and grill on a warm summer day.
Where can I go tubing in Massachusetts?
Beyond Deerfield River mentioned above, what are a few other places to do river tubing in Massachusetts? Turns out, you can have a ton of fun tubing without being on an actual natural river. While it isn't an au natural spot, CoCo Key Water Park in Danvers offers a lazy river that is still rewarding for all ages. In addition, Crooked Creek in Great Wolf Lodge in Fitchburg is another great lazy river indoors. But, if you're looking for another outdoor option, while still man-made, then check out Adventure River in Six Flags! This river is over 1,000 feet with waterfalls and everything.