Fall Is Coming And These Are The 10 Best Places To See The Changing Leaves In Massachusetts
There's nothing like fall in New England, and the autumn season in Massachusetts is especially glorious. When you want to see the best of the changing leaves in the Bay State, head to one of these spectacular spots. These are some of the best places to visit in Massachusetts in the fall, and you don't want to miss the spectacular display of color Mother Nature puts on!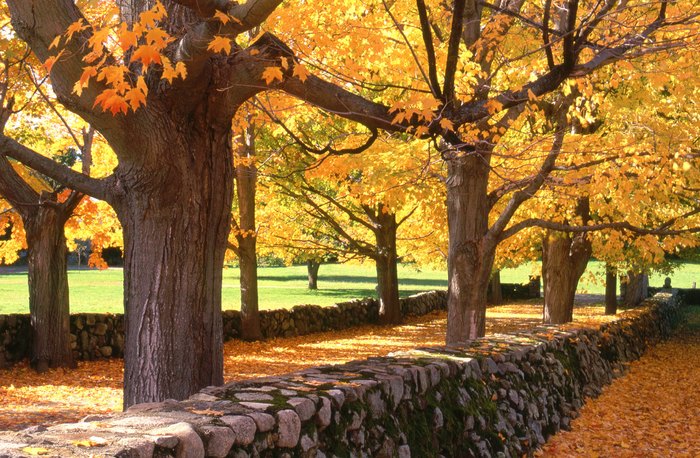 Where is your favorite place to go to see the best foliage in Massachusetts? Do you have any secret leaf-peeping spots? Share and let us know in the comments. If you're looking to take a fall road trip, check out these Massachusetts country roads that are pure bliss in the fall.
Address: Cemetery Road, Cemetery Rd, Boston, MA 02130, USA
Address: New England Botanic Garden at Tower Hill, 11 French Dr, Boylston, MA 01505, USA
Address: Bash Bish Falls, Mt Washington, MA 01258, USA
Address: Leominster State Forest, Leominster, MA 01420, USA
Address: Borderland State Park, 259 Massapoag Ave, North Easton, MA 02356, USA
Address: Old Sturbridge Village, Sturbridge, MA 01566, USA
Address: Towle Land, Carlisle, MA 01741, USA
Address: Ipswich, MA, USA
Address: Sunderland, MA, USA
Address: Boston Public Garden Foot Bridge, Boston Public Gdn Foot Brg, Boston, MA 02116, USA
best places to visit in Massachusetts in the fall
August 16, 2022
Which hiking trails in Massachusetts are best in the fall?
One of the best ways to see the fall colors in Massachusetts is by getting out of your car, lacing up your boots, and tackling the trails. Wachusett Mountain State Reservation features more than 17 miles of beautiful hiking trails which just transform during the fall. On the other side of the state, the Monument Mountain Trail in Great Barrington offers sweeping views of the Housatonic River Valley and the Berkshires, and this 3-mile loop might just be one of the best hiking trails in Massachusetts in the fall.
When can I see peak fall foliage in Massachusetts?
Timing is everything when you're on the hunt to see the fall colors in Massachusetts. The season typically starts towards the end of September, and peaks around the first or second week of October. Of course, Mother Nature is going to do what she pleases, so we are often left to just sit around and wait patiently! You can always take a road trip in Massachusetts starting in the northwestern part of the state and then make your way east since the western part of the state typically sees the colors begin to change first.
Where can I go apple picking in Massachusetts?
Apple picking is a popular fall activity in Massachusetts, and there are plenty of apple orchards in Massachusetts that are perfect for a fall day. Many of these local farms offer much more than apple picking, like Parlee Farms, a 93-acre farm in Tyngsboro, which also features a pumpkin patch and incredibly scenic views of the Merrimack River.
Address: Cemetery Road, Cemetery Rd, Boston, MA 02130, USA
Address: New England Botanic Garden at Tower Hill, 11 French Dr, Boylston, MA 01505, USA
Address: Bash Bish Falls, Mt Washington, MA 01258, USA
Address: Leominster State Forest, Leominster, MA 01420, USA
Address: Borderland State Park, 259 Massapoag Ave, North Easton, MA 02356, USA
Address: Old Sturbridge Village, Sturbridge, MA 01566, USA
Address: Towle Land, Carlisle, MA 01741, USA
Address: Ipswich, MA, USA
Address: Sunderland, MA, USA
Address: Boston Public Garden Foot Bridge, Boston Public Gdn Foot Brg, Boston, MA 02116, USA