5 Beautiful Covered Bridges Around Boston That Remind Us Of A Simpler Time
It's hard to explain the charm of covered bridges. While a bridge's purpose is to let us travel from Point A to Point B, this type of bridge serves as a reminder that the journey can be just as important as the destination. It's much more pleasant to meander along a route peppered with quaint structures that we associate with a simpler time than it is to zip along a freeway. But, is there a covered bridge near Boston? Let's take a look at five beautiful covered bridges within easy day-tripping distance of Boston: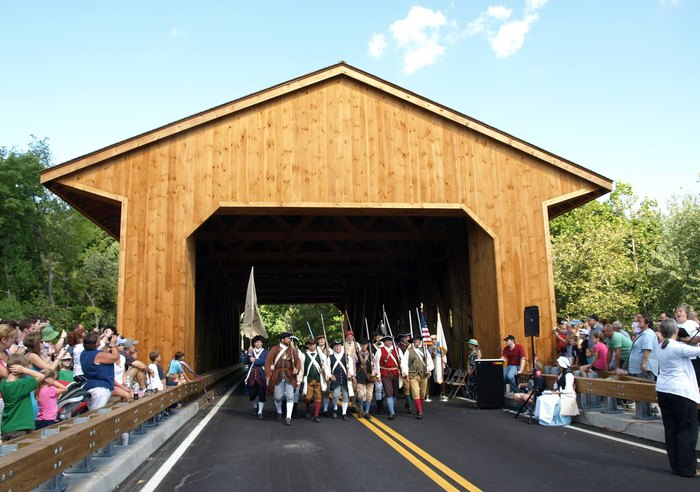 If you've been looking for a covered bridge near Boston, we hope these examples will inspire you to take a road trip to see these historic bridges. What's your favorite covered bridge in New England? Share a few of your favorite MA covered bridges with a comment.
If you are a fan of bridges in all shapes and sizes, check out our featured article about 19 unique, historic, impressive, awe-inspiring, and yes, even covered bridges in Massachusetts. If you enjoy covered bridges in MA, why not hop in the car (or rent an RV from RVShare) and take this beautiful covered bridges road trip through Massachusetts?
OnlyInYourState may earn compensation through affiliate links in this article.
More to Explore
More iconic bridges in Massachusetts
What are some famous bridges in Massachusetts?
Massachusetts has many historic and modern bridges that capture our hearts. From old wooden covered bridges to modern masterpieces of style and engineering. Here are a few famous bridges in Massachusetts:
Whether you prefer old bridges with a unique history or modern bridges that seem to defy gravity, Massachusetts has plenty of awe-inspiring bridges to enjoy.
Related Articles