Take This Road Trip Through Maryland's Picturesque Waterside Towns For A Charming Experience
We've created quite a few Maryland road trips thus far, and today we're bringing you one of the most picturesque. If you swoon over water views (who doesn't?) then you'll want to check out the following 10 towns. Take a few days to complete this entire trip and you'll realize why it's one of the most scenic Maryland road trips.
Click here to follow along with the Google Map. Ready? Let's go!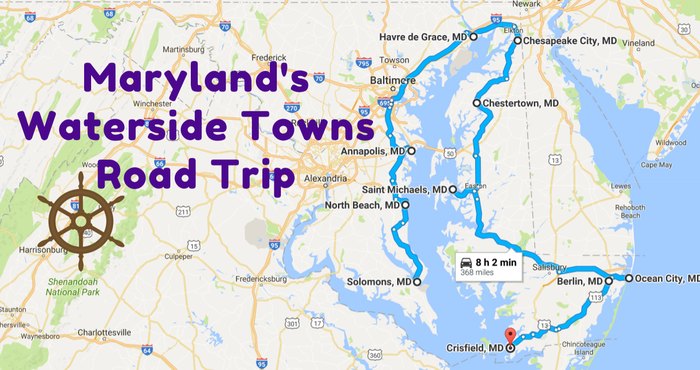 While there are even more waterside towns in Maryland, these are among the most charming. You may also be interested in this one vacation every Marylander should take at least once.
OnlyInYourState may earn compensation through affiliate links in this article.
Address: Solomons, MD, USA
Address: North Beach, MD, USA
Address: Annapolis, MD, USA
Address: Chesapeake City, MD, USA
Address: Crisfield, MD 21817, USA
Address: Ocean City, MD, USA
Address: Saint Michaels, St Michaels, MD 21663, USA
Address: Rock Hall, MD 21661, USA
Address: Chestertown, MD 21620, USA
Address: Havre de Grace, Havre De Grace, MD 21078, USA
Scenic Road Trips In Maryland
July 29, 2021
What are the most charming towns in Maryland?
Maryland is packed with charming towns! Whether you're looking for tiny towns like Solomons or larger historic communities like Ellicott City, you're sure to find a place that captures your heart. Head to Berlin to get a taste for quiet coastal life, or visit Crisfield to enjoy world-famous cakes in a quaint setting. Out in Western Maryland, Oakland is the best place to enjoy fall foliage in the mountains.
Where can nature lovers go for great day trips in Maryland?
If you love nature, you'll want to head west! Western Maryland's mountains are famous for their rolling and rocky trails and gorgeous natural formations. Towns like Cumberland and Walkersville will introduce you to a side of Maryland life that most visitors and locals tend to skip right over. Some of the best hikes in Maryland can be found in Patapsco Valley Park, South Mountain State Park, Swallow Falls State Park, and the Chesapeake and Ohio Canal National Historical Park.