This Ultimate Covered Bridge Trail In Maryland Is Everything You've Ever Dreamed Of
While Frederick County is known for its covered bridge trail that includes three historic structures, there are actually three more covered bridges located just a couple of hours away. We've combined all six covered bridges into one ultimate driving tour. With autumn in full swing and the leaves soon turning bright colors of copper, now would be a great time to start planning this picturesque and historic road trip to see some of the most spectacular covered bridges in Maryland.
The map was calculated to avoid tolls and major highways, so the drive will be just as scenic as the covered bridges. Driving time one way is three hours and 16 minutes and you can start at any spot you'd like.
Click here to follow along with the Google map.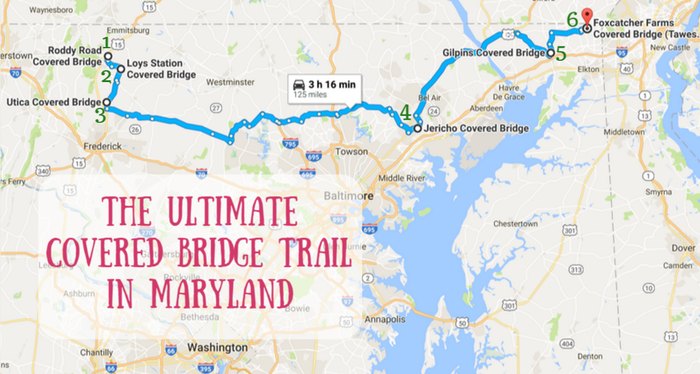 What do you think of this trail to see some of the most beautiful covered bridges in Maryland? If you're a history buff, you may also love this historic house in Maryland that will give you goosebumps and this list of amazing hiking spots in Maryland.
OnlyInYourState may earn compensation through affiliate links in this article.
Covered Bridges In Maryland
October 04, 2021
What are some of the must-visit historic places in Maryland?
As one of the original 13 colonies, Maryland has quite a long history and, therefore, plenty of historical places to visit. Fort McHenry in Baltimore is always worth a visit. It was here that Francis Scott Key found inspiration for "The Star-Spangled Banner" and it served as a hospital during the Civil War. St. Mary's City served as the state's first European settlement and is now a living history museum. Visitors can get a feel of what it was like for the first colonists by exploring the community on a day trip.
What are some hidden gems in Maryland I can visit?
Get away from the popular tourist attractions and visit the lesser-known places around Maryland like Jug Bay Wetlands Sanctuary in Lothian, The Walters Art Museum in Baltimore, and Lilypons Water Gardens in Adamstown. You can learn more about these and additional hidden gem locations in our previous post.
What are the most enchanting places in Maryland?
Maryland has quite a few places that will make you feel as though you've stepped into the pages of a fairytale. Explore Gathland State Park which is filled with beautiful castle-like stone structures. And then there's Assateague Island which is filled with enchanting beauty as well as wild horses that roam freely. There's no place quite like it!