Keep Your Eyes Peeled, Thousands Of Hummingbirds Are Headed Right For Louisiana During Their Migration This Spring
If you're a fan of natural phenomena, then you likely are asking yourself, when will hummingbirds arrive in Louisiana? Hummingbirds make two migratory journeys every year: one in the fall and then again in the spring. Their spring migration is already underway; and, luckily for us, they'll be stopping by Louisiana as they make their way further north for the breeding season across the United States and into Canada. We recommend picking up one of the best hummingbird feeders you can buy in order to get visited by flocks of beautiful hummingbirds. Here's everything you need to know if you'd like to attract these colorful little creatures to your yard: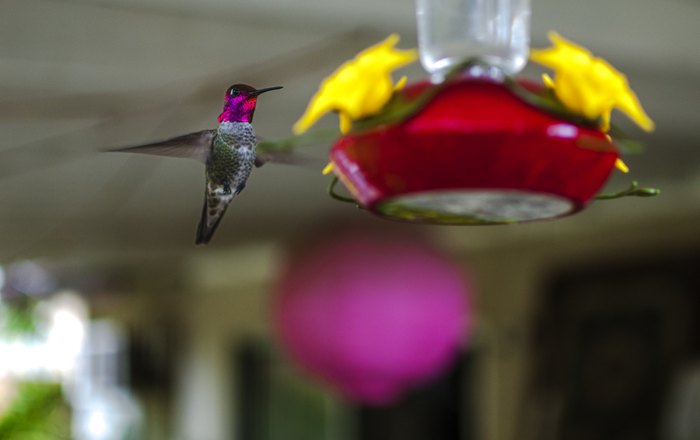 There's a lot of speculation that adding red dye to the nectar can actually be harmful to the birds, and you can learn all about hummingbirds from Bird Watcher's Digest.
So, did you get all of your "when is the expected arrival time for hummingbirds in Louisiana?" questions answered yet? Have you seen any hummingbirds this year? Do you have your own nectar recipe?  Let us know your thoughts in the comments below!
OnlyInYourState may earn compensation through affiliate links in this article.
When Will Hummingbirds Arrive In Louisiana?
February 17, 2023
What types of hummingbirds are in Louisiana?
During the spring rush (and even now), you'll find lots of interesting hummingbirds in Louisiana like the following species:
Ruby-throated hummingbird
Rufous hummingbird
Black-chinned hummingbird
Mexican violetear
Red buckeye
Rivoli's hummingbird
Blue-throated mountain gem
Broad-billed hummingbird
When should I hang a hummingbird feeder in Louisiana?
Even though most of the hummingbirds will still arrive in the spring, you don't need to restrict your hummingbird feeder to just the warmer months. If you really miss hummingbirds, you can hang that feeder year round in Louisiana. Regardless, you'll want to find the best hummingbird feeders possible.
Is it safe to feed hummingbirds in Louisiana?
It is absolutely safe to feed hummingbirds in Louisiana. After the long journey from South America, these birds are going to be hungry!