10 Unforgettable Places In Kentucky That Everyone Must Visit This Winter
The people of Kentucky get festive during both the seasons and the holidays. That means there are some unforgettable places to visit during the winter. All across the state people have begun to decorate and celebrate Jack Frost's season. Since we don't always get snow, some places off unique indoor celebrations, others just have a natural beauty that is awe inspiring in itself. Here are some unforgettable places in Kentucky that everyone should visit this winter: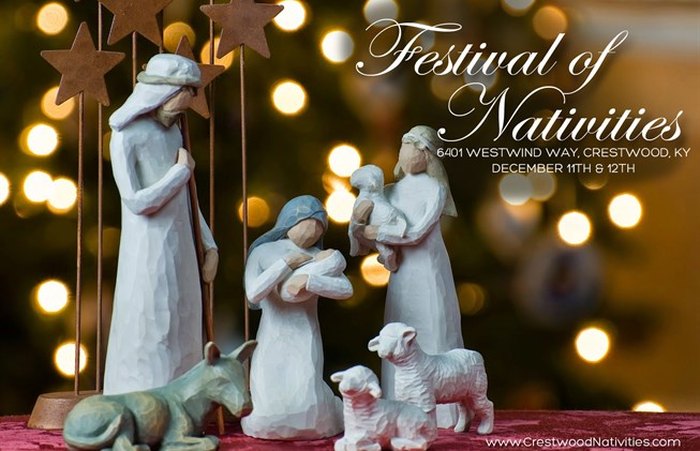 5. Winter Wonderland of Lights

A few of our readers commented on the festivities of Ashland's Central Park during the winter. The ladies spoke so highly I had to make sure and mention the breathtaking decorations and amazing displays of Christmas spirit. This video provides an interesting walk through that gets better with each passing moment.
4. Lexington

Lexington's Fire Station #20 puts their heart into showing the good people of Kentucky a festive holiday spirit with their beautiful light show set to music each year. This is an older video, but the holiday light show continues to brighten the Lexington nights each year. We just adore this Kentucky Christmas town!
3. Lebanon

In the lovely county of Marion, Kentucky Farm Bureau helps turn a dairy farm into a magical light show that couldn't be better if Santa himself did the decorating. The first minute or so offers the view of Santa's local helpers making sure things are in place. After that, things get bright and festive.
2. Light Up Louisville

The Light Up Louisville festival gives this city an incredibly festive holiday feel. The Downtown area is brightly lit with flashing lights, holiday décor and a huge Christmas tree. There is also an ice skating rink under the lights, allowing people to experience some traditional holiday activities under the vibrant colored "electric" snowflakes.
1. 146 Dunn Street in Georgetown

If you happen to be out riding around in Georgetown, take a moment to drive down Dunn Street. The festive light show is sure to brighten up your evening. So much so, that a couple of readers recommended it for viewing. The video is an array of vibrant colors and Christmas spirit, completely backing the opinion of OIK readers. The fun starts after the 27-second mark.
Each one of these charming Kentucky towns or places offers a warm, inviting, friendly holiday spirit to those wanting to appreciate the festivities. The warm glow of the lights, candles, Christmas trees and displays just seem to invoke the holiday spirit, even in the biggest Grinch. I think each one offers us something special for the season, and there are many other places just bursting with Yuletide greetings. What are your favorite things to do during the winter in Kentucky?
OnlyInYourState may earn compensation through affiliate links in this article.
Things to do during the winter in Kentucky
November 30, 2022
What are some fun winter getaways in Kentucky?
In addition to the above list of fun things to do during the winter in Kentucky, we're big fans of seasonal getaways. Here are some of our favorite winter getaways in the Bluegrass State:
Red Door Lakeside at Barren River Lake. This impossibly charming VRBO is always a fun getaway, but it gets decked to the nines come Christmastime, which makes it all the more magical! The 2,400-square-foot cottage is perched on a hill overlooking Barren River Lake, but its waterfront locale isn't the only feature that sets this home apart. Because, while darling all year long, this cozy cottage is adorned with Christmas lights and decor from Dec. 1 through Jan. 15, which makes it even more charming!
Lake Cumberland State Resort Park. This perennial favorite gets a lot of love from spring through fall, but we'd argue that winter might just be the best time to visit. Between the beautiful landscape (made even more alluring beneath a blanket of snow), amazing outdoor recreation, and park amenities and accommodations, Lake Cumberland State Resort Park is an amazing and affordable winter staycation in Kentucky that will have you excited about this cold and snowy season! In addition to boasting a prime location, the accommodations at this Kentucky state park are all incredibly affordable, too. All of the accommodations here are the perfect blend of modern and cozy, with beautiful views and top-notch amenities, like the temperature-controlled indoor swimming pool at Lure Lodge.
Cozy B&Bs in Kentucky. Winter and B&Bs go hand in hand, and if you need a weekend (or more) to relax, recuperate, and just hit the reset button, then head to one of these peaceful bed and breakfasts. Not only are the venues themselves relaxing, but they are located in small Kentucky towns, meaning you will experience nothing but peace and quiet during your stay. Here are some of the best bed and breakfasts in Kentucky

, sure to sweep you off your feet with their hospitality, history, and charms! We're especially fond of Maple Hill Manor in Springfield, Kentucky. Relax at this historic home that is located on a llama and alpaca farm. This award-winning bed and breakfast is the perfect getaway because it is a reasonable driving distance from attractions like the Perryville Battlefield and several bourbon distilleries, too.
OnlyInYourState may earn compensation through affiliate links in this article.