Fall Is Coming And These Are The 11 Best Places To See The Changing Leaves In Kansas
Fall is almost here! Are you excited? And while the Sunflower State is often overlooked during this resplendent season, there really is nothing like fall in Kansas. And the fall foliage in Kansas? Why, that's even better! These amazing Kansas places are the best spots for viewing the changing leaves this fall. Kansas is a beautiful state, that only gets better when the natural seasons bring color into the trees. Have you visited all of these stunning places during fall before?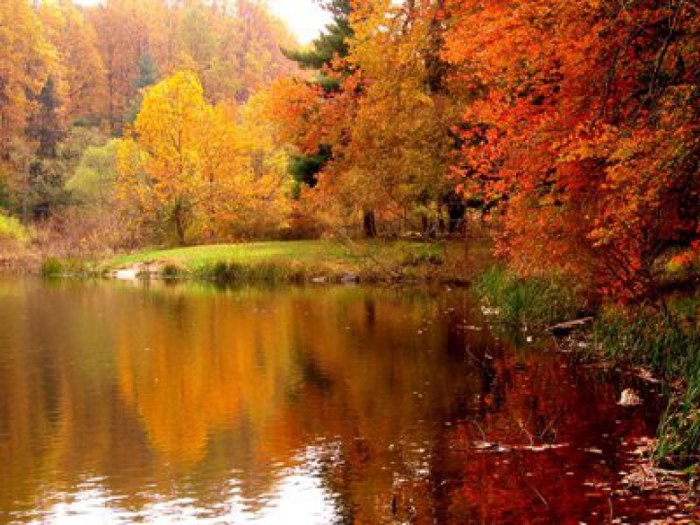 Where's your favorite place to go during the fall in Kansas? Did we miss any of your favorite spots to view fall foliage in the Sunflower State? Tell us in the comments below!
Also, once you're ready for fall and surrounded by all these amazing fall colors, the only thing left to do is travel. Why not check out these corn mazes in Kansas to make it feel even more like fall?
Address: Bartlett Arboretum, 301 N Line St, Belle Plaine, KS 67013, USA
Address: Cross Timbers State Park, 144 KS-105, Toronto, KS 66777, USA
Address: Topeka, KS, USA
Address: Cedar Point Mill, 1st St, Cedar Point, KS 66843, USA
Address: Garnett, KS 66032, USA
Address: Eisenhower State Park, 29810 S Fairlawn Rd, Osage City, KS 66523, USA
Address: Atchison, KS, USA
Address: Central Riverside Park, 720 Nims N, Wichita, KS 67203, USA
Address: Gypsum Hills, Medicine Lodge, KS 67104, USA
Address: Manhattan, KS, USA
Address: Overland Park Arboretum & Botanical Gardens, 8909 W 179th St, Bucyrus, KS 66013, USA
Fall in Kansas
August 16, 2022
What's fall in Kansas typically like?
While summer can be quite hot in the Sunflower State, during September and October, daily highs begin to dip, generally into the 70s and even 60s. The beginning of fall can be a bit wet, but by October, it's all blue skies and sunshine! Fall is one of the best times to visit Kansas, in fact. September and October are shoulder months with fewer crowds and mild temperatures. The fall season brings brilliant colors to the landscape with scenic views as far as the eye can reach, as evidenced by this list of beautiful places to view fall foliage in Kansas.
What are the best parks to see fall foliage in Kansas?
Kansas is home to 28 official state parks, and these places offer an abundance of recreation opportunities. Whether you're into hiking, camping, wildlife watching, fishing, bike riding, horseback riding, hunting, or just plain relaxing, a Kansas state park has what you're looking for! And in the fall? Well, these Kansas State Parks take on a more vibrant and resounding beauty, with places like Cedar Bluff State Park, Prairie Spirit Trail State Park, Cross Timbers State Park, Tuttle Creek State Park, El Dorado State Park, and Mushroom Rock State Park fan favorites in terms of the best state parks for viewing fall foliage in Kansas.
Address: Bartlett Arboretum, 301 N Line St, Belle Plaine, KS 67013, USA
Address: Cross Timbers State Park, 144 KS-105, Toronto, KS 66777, USA
Address: Topeka, KS, USA
Address: Cedar Point Mill, 1st St, Cedar Point, KS 66843, USA
Address: Garnett, KS 66032, USA
Address: Eisenhower State Park, 29810 S Fairlawn Rd, Osage City, KS 66523, USA
Address: Atchison, KS, USA
Address: Central Riverside Park, 720 Nims N, Wichita, KS 67203, USA
Address: Gypsum Hills, Medicine Lodge, KS 67104, USA
Address: Manhattan, KS, USA
Address: Overland Park Arboretum & Botanical Gardens, 8909 W 179th St, Bucyrus, KS 66013, USA