Hunt For Arrowheads On A Beautiful And Easy Tallgrass Prairie National Preserve Trail In Kansas
If you wanted to know where to find arrowheads in Kansas, pick the Flint Hills every time. This Tallgrass Prairie trail is perfect to start with if you have the time for an adventure. It's okay if you don't find any because looking for them is most of the fun! It's a beautiful hike, especially if you like to discover little treasures.
Note: It is illegal to remove anything from the preserve, including these arrowheads. As fun as they are to find, please do not take any home with you. Instead, photograph and make memories!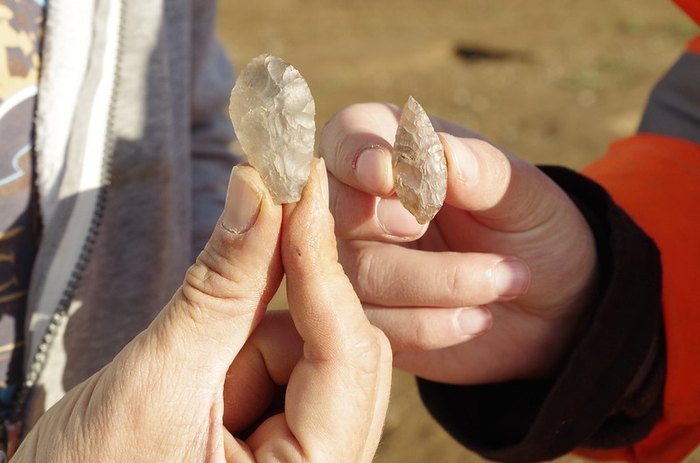 If you'd like to show us some of your favorite arrowhead spotting areas or just a beautiful trail in Kansas near you, send your suggestions over to our Nomination Page and we'll take a look!
OnlyInYourState may earn compensation through affiliate links in this article. As an Amazon Associate, we earn from qualifying purchases.
More to Explore
Where to Find Arrowheads in Kansas
Where can I find arrowheads in Kansas?  
Arrowheads can be found all over Kansas, but there are a few hot spots where you're a little more likely to find them than others. Some of the best places to find arrowheads in Kansas include the amazing Tallgrass Prairie National Preserve on specific trails, namely, the Gas House, Prairie Trail, and Davis Trail loops. The Flint Hills are notorious for the amount of Kansas arrowheads spotted. Of course, it's imperative to remember, now and always, that you can look for these precious ancient artifacts – but do NOT take them home. It's against federal law, and it interrupts the archaeological record. We know it's tempting – but please don't. It's illegal AND immoral to do so. Just not cool, man!  
Where can I go arrowhead hunting in Kansas?  
As we mentioned above, you can hunt but can't bring your trophies home. That being said, where's the best hunting? We like the above-mentioned hiking trails in Kansas, and those aside there are several more. Some of the best places to go arrowhead hunting in Kansas are in and along river beds, streams, and other sources of water including lakes as well. The rarest type of arrowhead in the world is the Clovis arrowhead, of which only about 10,000 have ever been found.  
Which tribes crafted the most Kansas arrowheads?  
Most, if not all, tribes in Kansas have crafted arrowheads. Perhaps the most notable is the Kansa tribe, known to have lived in villages alongside the Kansas and Missouri Rivers. Other notable tribes from the Kansas area were/are the Pawnee, Cheyenne, Commanche, Kiowa, Kickapoo, Ogaxpa, Ochethi Sakowin, Peoria, Sauk, and several more. Today, though, Kansas has just four recognized tribes. They are the Iowa Tribe (White Cloud), Kickapoo Tribe (Horton), the Prairie Band Powatomi Nation (Mayetta), and Sac and Fox Nation (Reserve).  
Related Articles
Explore Kansas
Featured Addresses

Tallgrass Prairie National Preserve, 2480B KS-177, Strong City, KS 66869, USA