Take This Road Trip To The 5 Most Eye-Popping Lavender Fields In Kansas
You may or may not be aware of this, but if you're not, get ready for it: did you know there are a number of gorgeous, endlessly purple lavender fields in Kansas? It's true! They are always a stunning thing to look at throughout the spring and summer months, not to mention their immensely therapeutic use in aromatherapy and mood-lifting. Visit these spots earlier in the year to enjoy the view, or come near harvest toward the end of summer to enjoy products made with all the local lavender you could ever hope for. They're all ready to bloom in the next several months, so get to planning that trip! Allow us to make some recommendations.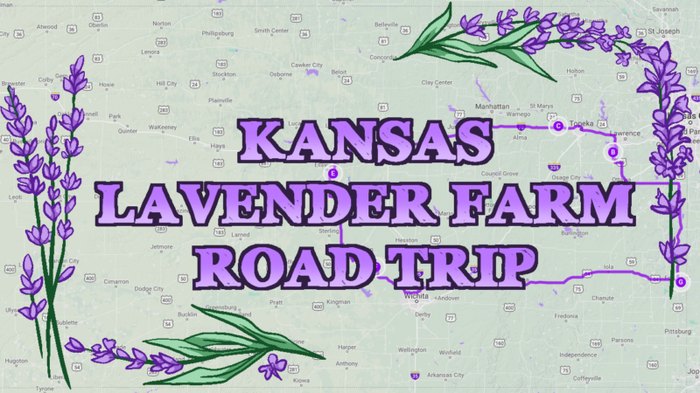 To open up the map you see below, click this link here. Make sure to look up each address on the map to get the most up-to-date information.
To get your beautiful flower fix during this next spring, you'll want to check out this spot where it seems like every color of the rainbow grows.
Have you ever toured a Kansas lavender farm? Which ones are your favorites, and which ones are you planning to visit this year? Let us know in the comments!
OnlyInYourState may earn compensation through affiliate links in this article.
Address: 2376 Locust Rd, Fort Scott, KS 66701, USA
Address: 858 E 800 Rd, Lawrence, KS 66047, USA
Address: 69 Alpine Ridge Ln, Bennington, KS 67422, USA
Address: 1376 18th Rd, Kanopolis, KS 67454, USA
Address: 8181 S Rayl Rd, Burrton, KS 67020, USA
Lavender Fields in Kansas
March 04, 2021
Where can I go to pick lavender in Kansas?
Luckily for us, Kansas has several breathtaking lavender fields to choose from, and some of them will even allow you to pick your own (season permitting). For example, The Lavender Patch Farm in Fort Scott, Kansas, holds a U-Pick event every year, as do other local lavender farms like Prairie Lavender Farm in Bennington, and Gertie's Lavender Farm in Burrton. You'll definitely want to make a list of all the farms you plan on visiting and check them off as you go. It'll be like the best-smelling scavenger hunt you've ever been on, except you're hunting tiny purple flowers.
What are some farms to visit in Kansas?
Kansas has dozens of farms that are open to having visitors, some by appointment only and others on a first-come, first-serve walk-up basis. Some of our favorites include gems like Ad Astra Alpacas, in beautiful Baldwin City, which is seriously as amazing as it sounds. Alpacas everywhere! Another great one is Hedrick's Exotic Animal farm, in Nickerson, which might be the only place in all of Kansas where you can hang out with - and feed - kangaroos, as well as other fascinating critters you definitely don't see every day.
What are some things to do in spring in Kansas?
Believe it or not, Kansas can be a pretty happening place in spring! We're surrounded by tons of natural beauty, so take your pick from any number of epic hiking trails, beautiful lakes, wide-open plains, or whatever else makes your heart sing. We're also all about that fishing and hunting life, too, which comes in handy if you're an avid camper who happens to be hungry. The possibilities are endless!