There's An Epic Summer Getaway In Iowa Called Rock-N-Row Adventures Iowa River Tubing And Camping
Summer passes all too quickly in Iowa. Every year, it seems like just after we're complaining about the heat, it's suddenly all gone and we're in the dead of winter. You've got to make sure to make the most of these warm weekends while we've got them! If you're looking for a unique thing to do in Iowa, check out this riverside camping resort. It's got all the ingredients for an epic Iowa weekend: camping, live music, and river tubing. Sounds pretty great, huh? It's a party like no other, and everyone is invited. Read on to see why you need to put Rock-N-Row Adventures on your summer calendar.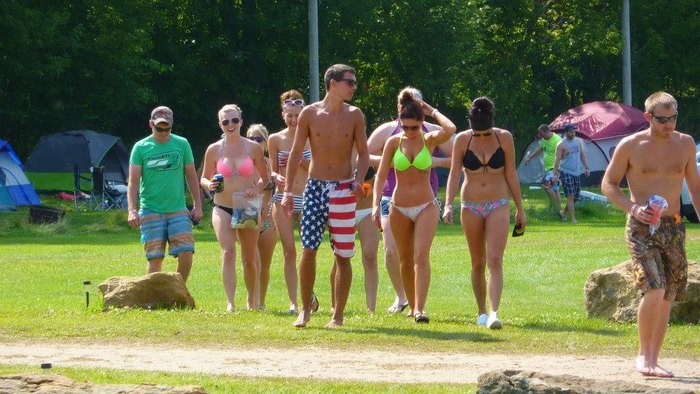 Rock-N-Row Adventures suggests campers bring grills to cook food. You'll also want a cooler: one sized between 30 and 55 quarts works best. In order to be taken onto the river, music players or speakers will need to be able to fit into one of the outfitter's tubes.
If you love river tubing in Iowa, there are plenty of great spots to hit the water!
Address: Rock-n-Row Adventures Iowa River Tubing, 23539 1st St, Eldora, IA 50627, USA
Things To Do In Iowa
August 10, 2022
Are there any lazy rivers in Iowa?
If you're looking for natural lazy rivers in Iowa, don't sweat it: we've got plenty! There are plenty of tubing adventures that even have campgrounds attached (like Rock-N-Row Adventures), so you don't have to leave when nighttime comes around!
Are there any water parks in Iowa?
We have no shortage of epic water parks in Iowa. Whether you like adrenaline-racing thrill rides or prefer the easy breezy peacefulness that comes with floating on a lazy river, we've got you covered in the Hawkeye State. Have you ever visited Lost Island Waterpark? It's such a great spot, and its absolutely massive size ensures you never run out of things to do.
What are the best swimming holes in Iowa?
There are lots of natural swimming holes in Iowa if you prefer being out in nature to a pool. And, of course, Iowa's Great Lakes are amazing: Spirit Lake is one of our favorite spots to swim.
Address: Rock-n-Row Adventures Iowa River Tubing, 23539 1st St, Eldora, IA 50627, USA