Posted in Iowa
September 06, 2022
7 Epic Train Rides In Iowa That Will Give You An Unforgettable Experience
All aboard! It's time to see Iowa in a way that you've never seen it before – from the inside of a train! While train travel is somewhat of a novel thing nowadays, we Iowans are lucky enough to still have several passenger trains to take a ride on – from Creston in the west to Burlington in the east. Next time you're looking to take a scenic, relaxing trip, check out these incredible train rides in Iowa.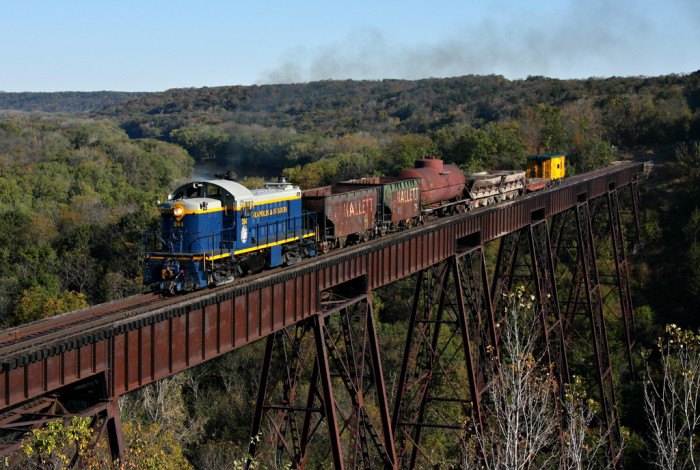 Have you been on any of these train rides in Iowa? What did you think? Share your thoughts with us in the comments below!
And if you're looking for more fun, check out these exciting day trips in Iowa.
Address: Boone & Scenic Valley Railroad | James H. Andrew Railroad Museum, 225 10th St, Boone, IA 50036, USA
Address: Creston, IA 50801, USA
Address: Burlington Station, 300 S Main St, Burlington, IA 52601, USA
Fun Things To Do In Iowa
September 09, 2022
What are the best day trips in Iowa?
If you want to take a step back in time, head over to the Amana Colonies. Comprised of seven picturesque villages, these areas are full of charm. German pietists first settled this region after escaping persecution in their home country. It's a great place to experience their rich German culture and explore the lovely surroundings. If you love looking at beautiful works of art, pay a visit to the Sioux City Art Center. You can even take classes and learn how to create art, yourself! For more fun ideas, check out our list of the best day trips in Iowa. 
What are the best outdoor activities in Iowa?
There are so many ways to enjoy the great outdoors. For starters, head over to Pillsbury Point State Park. Even though it's the smallest state park in Iowa, there is so much to see and do. Enjoy the glistening lake and devour a tasty picnic under a shady tree. This is one peaceful place that you'll want to visit again and again. For more lovely views, walk among wildflowers at the Hillview Recreation Area. The Green Trail is a 4-mile walkway that's full of stunning sites. This easy-to-follow pathway isn't very steep, so it's great for even young hikers. You'll walk under gorgeous trees and near crystal-clear lakes. It's definitely one of the best hiking trails in Iowa! 
Which hidden gems in Iowa should I visit?
Journey off the beaten path and explore someplace new! Devonian Fossil Gorge, located in Iowa City, is one of the best hidden gems in the state. Here, you can stare in awe at the 375 million year old fossils. It's fascinating – both for kids and adults! For more fun, explore the Wabash Trace Nature Trail in Council Bluffs. This 63-mile trail is jam-packed with extraordinary views. Need more ideas? Check out our full list of the best hidden gems in Iowa.
Address: Boone & Scenic Valley Railroad | James H. Andrew Railroad Museum, 225 10th St, Boone, IA 50036, USA
Address: Creston, IA 50801, USA
Address: Burlington Station, 300 S Main St, Burlington, IA 52601, USA