Take These 10 Country Roads In Iowa For An Unforgettable Scenic Drive
There's nothing quite like taking a scenic drive through the beautiful Iowa countryside, admiring the beauty of our awe-inspiring landscape and some of the best views you'll ever see. If you're looking for the best routes to take a scenic road trip, here are 10 country roads in Iowa that are worth a trip all on their own! They range from the quaint and mysterious to the brooding and beautiful, and one thing is for sure: you'll definitely get your fix of scenic Iowa on any one of these little routes.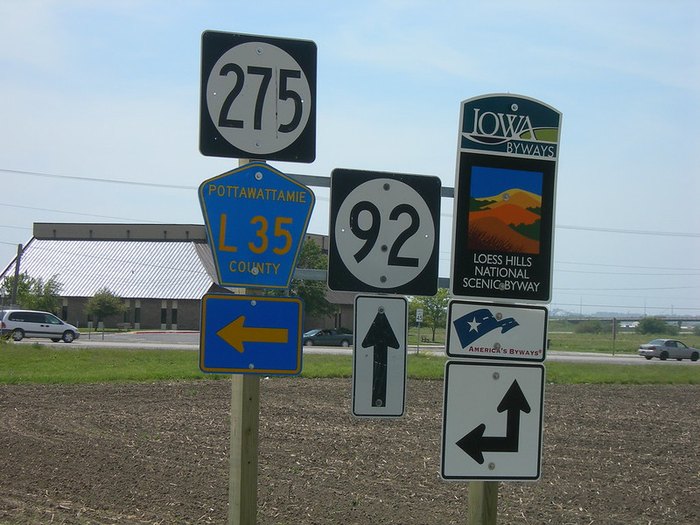 All these roads are amazing, but pretty much whatever road you take here in Iowa, you're sure to find beauty. So, what do you think? Will you be seeking out any country roads in Iowa for a scenic drive anytime soon? Tell us your plans in the comments! Looking for a little more road trip inspiration? Check out this article for some unforgettable Iowa road trips you've just GOT to add to your bucket list.
OnlyInYourState may earn compensation through affiliate links in this article.
Country Roads in Iowa
April 19, 2021
Where can I take a scenic drive in Iowa?
Iowa is a gorgeous state with TONS of awesome backroads, scenic routes, and much more. Some of the best roads you can take for a nice, scenic drive in beautiful Iowa are the Historic Hills Scenic Byway, which will treat you to incredible, unbeatable views (and is more than 100 miles long), and you can't miss a drive along Smokey Hollow Road, near Marquette, either. There are also gems like the Lincoln Highway Heritage Byway, which conjoins the main streets of 43 adorable Iowa communities, and Highway 52 is pretty dreamy, too. There are literally hundreds of places ideal for scenic drives in Iowa. Check out this article for more dreamy road-trip inspiration. 
Where are the best places to see Iowa scenery?
We are so lucky to live in a state so beautiful. There's so much more to Iowa than just farmlands and flat fields! We've got beautiful lakes, gorgeous rivers, trickling crystal streams, cave systems, woods, and so much more to explore. The Iowa River Valley is one of the most scenic areas in the state, and from there, you're able to see the plush, gorgeous green Iowa forest, and beautiful, clear river waters for as far as you can see. Pikes Peak State Park is one of the most photographed places in the whole state, and you'll definitely see why as soon as you get there. There are also interesting, offbeat places like Crystal Lake Cave, where you'll feast your eyes on stalactites and stalagmites like something out of a fairy tale. It's up to you because no matter what you find beautiful, you'll probably find it in Iowa. 
What kind of natural gems in Iowa are there? 
An easier question to answer would be "What kind of natural gems aren't there in Iowa?", because we've got a little of everything. It's not all flat land and windmills! For example, the Loess Hills are a stunning natural wonder that you'll have to see to believe, and the Maquoketa Caves are a treasure and a half just waiting for you to come to explore them. Speaking of caves, Crystal Lake Cave is a natural gem that you can't miss, either, and if you like more urban settings, there are always incredible views at Eagle Point Park, which includes a photogenic pond and awesome fall foliage when the time is right. 
OnlyInYourState may earn compensation through affiliate links in this article.