10 Awesome Corn Mazes In Iowa You Have To Do This Fall
Fall in Iowa is a magical time of the year. After all, it's the season of apple cider, pumpkin patches, hay rides, and corn mazes in Iowa! If you're looking for a fun and festive activity this fall, grab your friends or family and head to one of the twisting, turning corn fields in Iowa. Not sure which Iowa corn maze to visit? No problem! Just peruse the a-maize-ing corn mazes in Iowa featured below.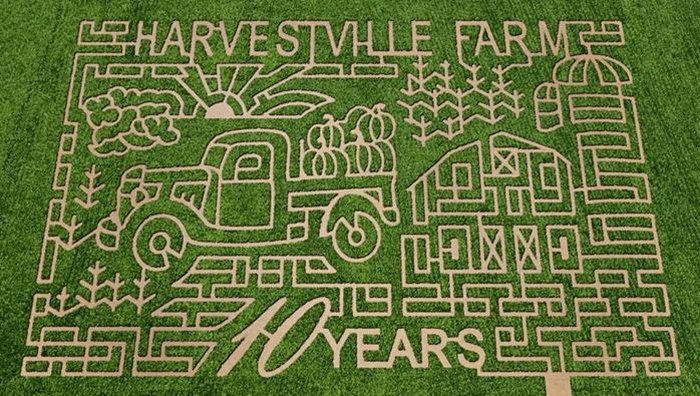 So, did you know about these corn mazes in Iowa? Ever navigated your way through any of them? If so, which ones and what did you think? Did we miss your favorite Iowa corn maze? Whatever it is, tell us!
Corn mazes in Iowa aren't the only option for seasonal fun in the state. There are several others, including this fall foliage road trip in Iowa.
Address: Harvestville Farm, 1977 IA-2, Donnellson, IA 52625, USA
Address: Pinter's Gardens & Pumpkins, 2475 IA-9, Decorah, IA 52101, USA
Address: 618 Center Ave S, Mitchellville, IA 50169, USA
Address: 1150 Front St NE, North Liberty, IA 52317, USA
Address: Bloomsbury Farm, 3260 69th St, Atkins, IA 52206, USA
Address: Solsma's Punkin Patch and Fireworks, 6190 320th St, Sanborn, IA 51248, USA
Address: 7541 Schueller Heights Rd, Dubuque, IA 52003, USA
Address: Center Grove Orchard, 32835 610th Ave, Cambridge, IA 50046, USA
Address: Hoefling's Pumpkin Patch & Corn Maze, 5303 D Ave, Marcus, IA 51035, USA
Corn Mazes In Iowa
August 26, 2022
Where are the best places to see fall foliage in Iowa?
A visit to an Iowa corn maze isn't the only way to celebrate the arrival of fall. There are quite a few others, including peeping at the vibrant foliage that comes along with the season. Fortunately, there are plenty of places to take in views of red, orange, and yellow hues, including the Hitchcock Nature Center. Located in Honey Creek and nestled along the western edge of Iowa's rugged loess hills, the 1,268-acre nature center is brimming with scenic beauty, which only gets better in the fall. Even better, there's a 45-foot-tall observation tower, where you'll be treated to vistas that are equal parts vibrant and expansive.
Where can I go apple picking in Iowa?
There are several places to do some apple-picking in Iowa and Wilson's Orchard and Farm is one of them. Located in Iowa City, it offers a quintessential farm experience that's fun for the whole family. Since its establishment in 1980, it's grown into one of the best u-pick spots in the state, boasting a slew of fruits and veggies including dozens of varieties of apples. The grounds also include a bakery and market.
Deal's Orchard is another popular spot for apple-picking and other fall festivities. Family owned since 1917, the Jefferson orchard has long been central Iowa's go-to destination for fall fun and for good reason – it's brimming with things to do! In addition to a u-pick orchard with more than 25 varieties of apples, there are sunflower and zinnia fields, a pumpkin patch, hay rides, and a corn maze. There's also The Apple Barn, which is stocked with all sorts of apple goodies as well as jarred items, fresh produce, décor, and more.
Address: Harvestville Farm, 1977 IA-2, Donnellson, IA 52625, USA
Address: Pinter's Gardens & Pumpkins, 2475 IA-9, Decorah, IA 52101, USA
Address: 618 Center Ave S, Mitchellville, IA 50169, USA
Address: 1150 Front St NE, North Liberty, IA 52317, USA
Address: Bloomsbury Farm, 3260 69th St, Atkins, IA 52206, USA
Address: Solsma's Punkin Patch and Fireworks, 6190 320th St, Sanborn, IA 51248, USA
Address: 7541 Schueller Heights Rd, Dubuque, IA 52003, USA
Address: Center Grove Orchard, 32835 610th Ave, Cambridge, IA 50046, USA
Address: Hoefling's Pumpkin Patch & Corn Maze, 5303 D Ave, Marcus, IA 51035, USA