You Have Until The End Of October To Conquer Indiana's Tunnel Falls Trail
There are lots of hiking trails all over Indiana that are open year-round. This is wonderful, of course, because it gives us the chance to explore the beauty of the Hoosier State whenever the urge strikes. Some trails, like the one leading to Tunnel Falls, are open for a relatively limited period of time, and although it's a bummer that we can't see what some of these places look like as a winter wonderland, it does mean that the time we do spend on these trails is usually lush, vibrantly green, and intensely colorful. Some of them would likely qualify for a list of the best hikes in Indiana, and there's just something about that limited-time availability of the hike that makes it extra special.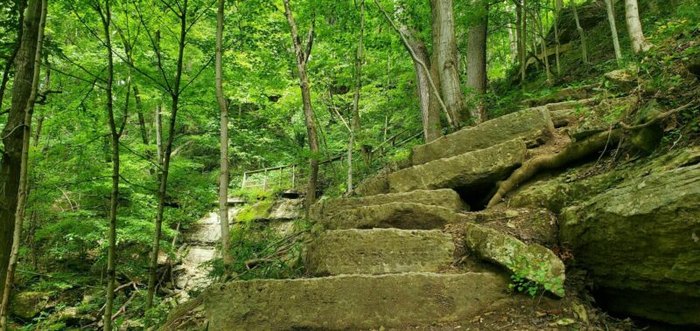 For a map, directions, and more about this hiking trail, be sure to check out the official state park page.
What are your choices for the best hikes in Indiana? Tell us about your favorites by filling out this form, and you might just see yours featured someday!
Address: Clifty Falls State Park, 2221 Clifty Dr, Madison, IN 47250, USA
Address: Tunnel Falls, Madison Township, IN 47250, USA
Waterfall Hikes in Indiana
August 25, 2022
Besides Tunnel Falls, what are some other great waterfall hikes in Indiana?
Of course, Indiana has many stunning waterfalls and all are worthy of a visit. While Tunnel Falls is incredibly beautiful, you must explore others that are equally stunning. One such waterfall is the Williamsport Falls located in Warren County. The 1.6-mile hike to this gem is considered easy and will take approximately 30 minutes to complete. Though the hike is short, the rewards are amazing, and witnessing the 90-foot waterfall will take your breath away. It's the tallest waterfall in the state and you'll love seeing it for yourself.
Another equally stunning waterfall is the Cataract Falls located in the Lieber State Recreation Area. While Williamsport is the tallest waterfall in our state, Cataract is the largest by volume, so it's definitely worth the short hike to witness it. Another reason to visit is that you'll see two sets of falls, the upper and the lower Cataract, with a series of cascades and about a mile in between the two falls. You'll want to take the hike to see them both. The hike is considered fairly easy and you'll encounter lots of wildlife along the way.  
Are there any Indiana waterfalls that require no hiking? 
At times, we don't have all the time in the world to complete a full-day hike. So, it's great when we can take an easy stroll and get to some of Indiana's hidden gems. If you would like to see a stunning man-made waterfall without having to lace up your boots, then we recommend the Thistlethwaite Falls. This spectacular waterfall was created in 1854 after the damming of the Whitewater River. It's a popular attraction for locals and a great place to get your feet wet. After a short stroll down a gravel trail, you can take the steps down to the base of the waterfall and enjoy all that it has to offer. Also, you can check out our previous article for more waterfalls in Indiana that require little to no hiking.
Address: Clifty Falls State Park, 2221 Clifty Dr, Madison, IN 47250, USA
Address: Tunnel Falls, Madison Township, IN 47250, USA