The Creepiest Hike In Indiana Takes You Through The Ruins Of An Old Cemetery
Stepp Cemetery in Indiana is one of the places that seem to come up again and again if you search for "haunted places in Indiana" on the internet. Among additional famous — or should we say infamous — cases in the Hoosier State are Whispers Estate, the Hannah House, Central State Mansion, and the old Slippery Noodle Inn. The commonly-mentioned and legendary Hoosier haunt Stepp Cemetery near Martinsville conveniently has a creepy hike to get to that very place that's equal parts beautiful and eerie. Nestled within the notoriously creepy Morgan-Monroe State Forest is the Three Lakes Hike, which takes hikers past two photogenic, crystal-clear lakes (yes, just two — there once was three), but also leads them to one of the creepiest hikes in Indiana. Take this haunted hike in Indiana if you're hoping to get out and enjoy the outdoors with a side of spookiness.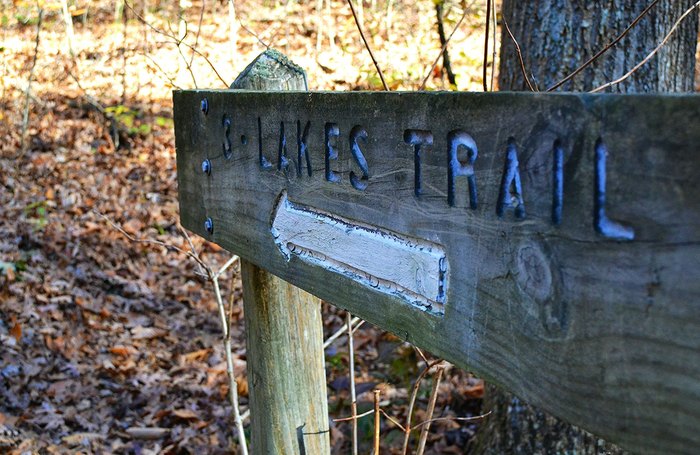 Are you as brave as this team of paranormal investigators?
Have you ever experienced anything strange on this allegedly haunted hike in Indiana? For more information on this one – including lots more photos – check out the official AllTrails page. and while you're there, sign up for AllTrails + so you can record your trails, download offline maps, and unlock more map details.
For more creepy Indiana, you might want to stay the night at this notoriously haunted Inn and enjoy some yummy snacks along the way.
OnlyInYourState may earn compensation through affiliate links in this article.
More to Explore
Creepiest Places In Indiana
What are some of the creepiest places in Indiana?
Would you like some adventure in your life? Take the Ultimate Terrifying Indiana Road Trip. Starting in Evansville and ending in Elizabeth, this fascinating journey takes you to 10 scary places in the Hoosier State. Here are a few on the spooky list if you are made of the courage to try some out.
Capt. McHarry's Tomb (3685 Indiana State Route 111, Elizabeth, Indiana): Captain Frank McHarry's Tomb is located on a bank overlooking the Ohio River. Here folks have told about a mysterious mist lingering about his grave, where the late captain watches over boats passing by. Even though his body was moved to Cave Hill Cemetery in Louisville, Kentucky, visitors by land and sea swear his spirit remains. Are you brave enough to visit? Catch a glimpse of Captain Frank McHarry's Tomb in this short video.
Primrose Road (Primrose Road, Warren Township, Indiana): Legends about this captivating road vary. One says you must not exceed or go under the speed limit of 20 to 30 mph or bad things happen. Your car and cell phone will die, the tires will run out of air, and according to reports, you will hear people running through the woods. In addition, a woman might suddenly appear and cause your car to disappear altogether, or grant you luck.
The Monroe House (218 N Monroe, Hartford City, Indiana): Nicknamed "The Demon House," rumors of hauntings and possessions exist. The house has suffered numerous fires and fire-related deaths. Rumors exist of ghostly figures, bones found in the basement, and other activities so frightening they even chased out the most professional of paranormal explorers. Find out how to spend the night at this seriously haunted place on The Monroe House's Facebook page.
Related Articles
Explore Indiana
Featured Addresses

Morgan Monroe State Forest, Washington Township, IN 46151, USA