These 5 Water Parks In Indiana Are Pure Bliss For Anyone Who Goes There
Nothing is more refreshing and inviting than spending some time at the pool when the temperatures and humidity really start to crank up (thanks, Midwest!). But why limit yourself to the inflatable kiddie pool you purchased from Target? Or the sad little sprinkler situation you set up in the backyard? You'll find some of the best waterparks in Indiana, and they're calling your name! Whether it's the standard outdoor waterpark with epic slides and tunnels, an indoor waterpark you can go to on rainy days, or even a beachside waterpark that *also* has amusement park rides (yes! It's true!), you'll find it all in the Hoosier State. Read on for five of the very best waterparks in Indiana: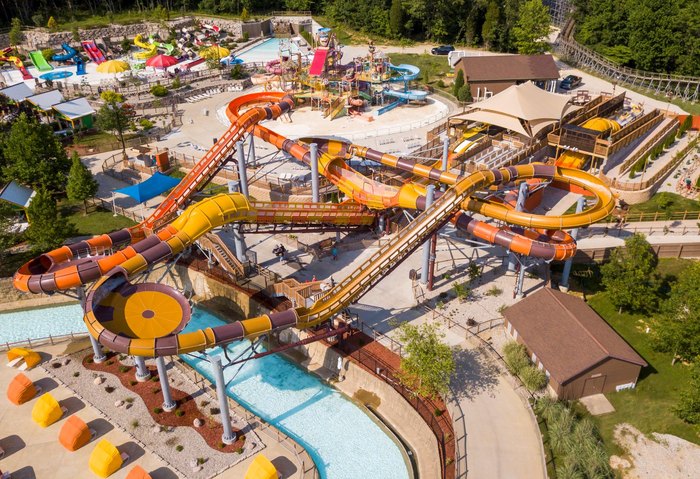 Have you been to any of these water parks in Indiana before? Maybe you're making plans to go to one of them in the future? Perhaps you can think of another great one that didn't make this list? Share your picks for the best water parks in Indiana with us in the comments below!
For more warm-weather fun in the Hoosier State, be sure to check out these epic outdoor adventures in Indiana.
OnlyInYourState may earn compensation through affiliate links in this article.
More to Explore
Best Waterparks In Indiana
What's summer like in Indiana?
Indiana, like much of the Midwest, gets all four seasons -- but summertime in Indiana may be the very best season of the year!
It's hot and humid, yes, but there are festivals all season long, the kind of old-fashioned festivals where you can grab a fried corndog or funnel cake, play games for prizes, and enjoy carnival rides and attractions.
Does Indiana have any amusement parks?
In our roundup of the best waterparks in Indiana, we mentioned two attractions that are also home to epic Indiana amusement parks:
Holiday World: Established in 1946, Holiday World is the best amusement park in southern Indiana (it's also been voted the best waterpark in Indiana, too!). Holiday World features both roller coasters and water slides as well as several other types of rides for guests to enjoy. Some of its most famous rides are The Thunderbird, The Raven, The Legend, and The Cheetah Chase -- and you can actually take a virtual ride on these epic roller coasters right here!
Indiana Beach: This is the quintessential summer experience in the Hoosier State. Technically, this is an amusement park located in Monticello, Indiana. It just happens to be on a stellar waterfront, making it the ultimate day-trip adventure! An amusement park beach? Now that's something you'll only find in Indiana.
Are there any swimming holes in Indiana?
If you're up for a little water recreation of the natural variety, you'll be pleased to know that there are some great beaches and swimming holes in Indiana.
For a beach day in Indiana, check out these six beautiful beaches! Of those on the list, definitely check out Lake Street Beach. Miller Beach is the name of a town in the state of Indiana, and it just so happens to be home to a pretty incredible beach, Lake Street Beach. It's where the Indiana Dunes National Park begins, and is surrounded on all sides by this breathtaking national park. It's truly spectacular! 
And if swimming holes are more your style, there are many spots where you can perfect your cannonball. White Rock Park is a bucket list must; if you're looking for a swimming hole with the most dazzling blue water you've ever seen, you have to visit White Rock Park. Enjoy swimming, zip lining, and cliff diving at this amazing swimming spot. It's amazing!
Related Articles