18 Best Hikes in Illinois: The Top-Rated Hiking Trails to Visit in 2023
Aptly nicknamed "The Prairie State," Illinois is a natural wonderland known especially for its peaceful, sprawling meadows, farmland, gentle rolling hills, and wetlands. Of course, this state has more to show off than prairies. With dramatic rock formations, canyons and valleys, scenic bluffs, lakes and rivers, and even cascading waterfalls, Illinois is an amazing place for nature lovers to explore, and we've got some of the best hikes in Illinois in this article to get you started.
There are a whopping 41 state parks, not to mention state wildlife areas, recreation areas, and state forests, that cover over 475,000 acres of land here. Is there any question that there are wonderful opportunities for hiking in Illinois? If your adventurous side is calling and you are looking for the best places to hike in Illinois, you have come to the right place.
Best Hikes in Illinois
There so many incredible places to discover here – to wander and to wonder. Whether you are looking for an easy, accessible or family-friendly hike, a way to challenge yourself a bit and develop your skills, or an adrenaline-packed adventure, there is something for everyone. Let's start with some of the overall best hikes in Illinois.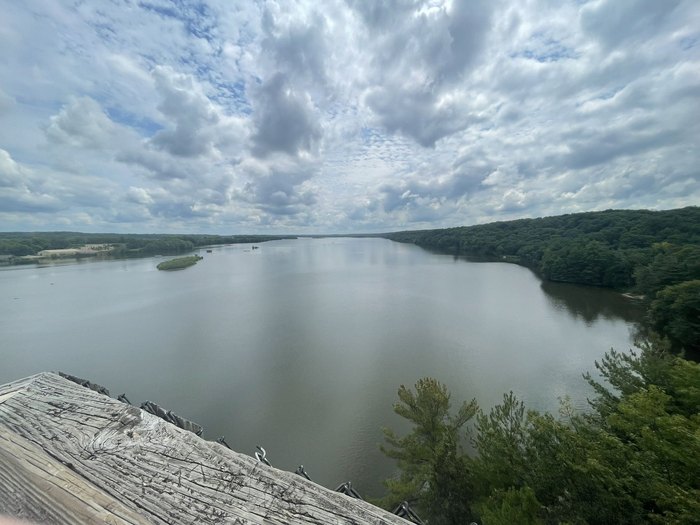 Best Short & Easy Hikes in Illinois
Some folks mistakenly think that hiking and nature adventures are only for the intrepid, but truth be told, some of the most beautiful vistas in the state are actually surprisingly accessible. Whether you are a novice hiker, want a trail that is kid-friendly, or just looking for a relaxing nature trail, you have many options. Here are just a few of the best hikes in Illinois that are quick and easy.
Hardest Hikes in Illinois
If you are a serious hiker and adventure-seeker, a gentle walk will simply not do it for you. If you want a real challenge, something to stretch your skills and endurance, these are some of the most highly-rated strenuous hikes in the state. Grab your hiking boots and plenty of water, and get ready to break a sweat with the best hikes in Illinois for a challenge.
Best Waterfront Hikes in Illinois
From creeks and lakes to cascading waterfalls, there is something incredibly refreshing, and grounding, about being near water. If that is what you are looking for, here are some of the best hikes in Illinois that will take you on an invigorating journey to the water's edge.
Best Winter Hikes in Illinois
Winter in the midwest brings rain and snow and may send us all indoors seeking warmth and shelter. But we still need some time outdoors, don't we? Fortunately, Illinois has some amazing and beautiful places to hike in the winter, some of which are even more amazing than at other times of the year. Here are a few of the best hikes in Illinois to tackle this winter.
Best Hikes near Springfield
Like any city, the capital of Illinois may not be the place most people picture when it comes to hiking and enjoying the natural beauty. That being said, for those without the time or desire to travel far from the city, some of the best hikes in Illinois include some beautiful nature-filled places in and near Springfield. Check out just a few below.
There is nothing like exploring one (or several) of the best hiking trails in Illinois to truly appreciate the amazing and diverse natural beauty of this great state. So, whether you head out on a short, easy jaunt or an epic, arduous journey, lace up those boots, fill your water bottle, and hit the trail. Try AllTrails+ For Free.
Make sure you are prepared for any and every hike you take by checking out our Ultimate Hiking Packing List.
OnlyInYourState may earn compensation through affiliate links in this article. As an Amazon Associate, we earn from qualifying purchases.
More to Explore
18 Best Hikes in Illinois: The Top-Rated Hiking Trails to Visit in 2023
Does Illinois have good hiking trails?
Yes! Illinois has many good hiking trails. From picturesque lakes, rivers, and waterfalls to scenic canyons, valleys, and rock formations, there are wonderful hiking trails throughout the Prairie State for every skill level and every season.
What are the best months to hike in Illinois?
The best months to hike in Illinois are generally agreed to be between April and September. From mid-spring to early fall, trails are less likely to be slippery or muddy, and temperatures are most comfortable for outdoor activities. That being said, many of the best trails in the state are beautiful all year long, and in fact, some of the most enchanting natural landscapes, such as frozen waterfalls and pristine white meadows, can only be seen in the dead of winter.
Related Articles
Explore Illinois