The Little Town In Idaho That Might Just Be The Most Unique Town In The World
Of all the towns in Idaho, it's hard to choose just one to be the "most unique" – they're all pretty special! But one charming town in the Panhandle is so singular that it's been recognized nationally as one of America's best small towns, as one of the top 10 most "authentic" towns in America, and more. But while Wallace, Idaho's claim to fame is often its unique history, captured in places like the Sierra Silver Mine and Oasis Bordello Museum, this town has so much more to offer!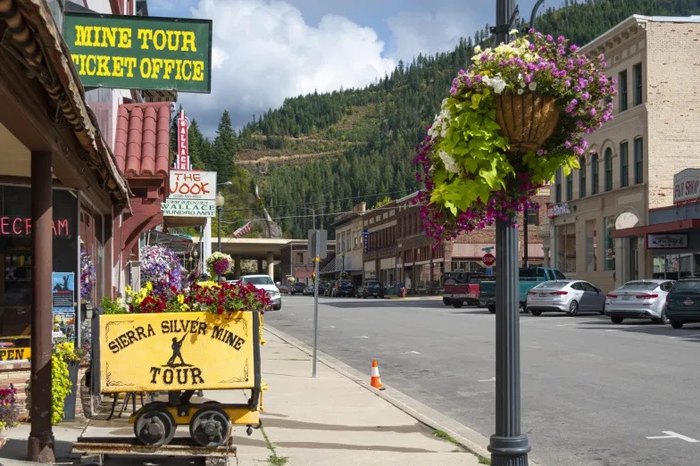 If you've never paid a visit to this fun little town, you're in for a treat! When it comes to personality, the "Center of the Universe" has one of the most vibrant personalities in Idaho, and we love this little town for all of its oddities, surprises, and beauty.
Craving more Idaho goodness? Avoid the crowds with this quiet hike through a beautiful nature preserve. 
OnlyInYourState may earn compensation through affiliate links in this article.
Address: Wallace, ID 83873, USA
Wallace, Idaho & Related Info
October 05, 2022
Where is Wallace, Idaho?
You'll find Wallace, Idaho about an hour southeast of Coeur d'Alene, making it the perfect place to kickoff a weekend road trip through the Panhandle, or a day trip of its own.
What are some must-see attractions in Wallace, Idaho?
There are plenty of things to see and do in Wallace, Idaho. Not only is the town absolutely gorgeous as it is tucked away in the mountains and is surrounded by some of Idaho's natural beauty, but this town is also home to multiple historic landmarks. One of the most popular is the original train depot from 1901. Today, this is home to the Union Pacific Railroad Museum and a delightful stop while in town.
One of the most unique historic landmarks in town is the restored Wallace Stairs. Back in the 1880s, residents would use this staircase to access their homes that were located on the hills. Today, you can walk up these stairs and imagine yourself living decades in the past — and you'll get a good workout while you are at it!
What is Wallace, Idaho famous for?
Wallace is known for its charming downtown area, beautiful views, and incredible mining history, but that's not all. What you may not know is that Wallace has one claim to fame — it is the Center of the Universe. Located at the center of Bank and Sixth Street is a plaque in the middle of the road, claiming to be the Center of the Universe. While this likely isn't the real Center of the Universe, it is still fun to stand on the plaque and pretend. You never know … you really might be standing in one of the most unique locations in the universe!