This One Easy Hike In Idaho Will Lead You Someplace Unforgettable
Just south of the quaint mining town of Wallace is a hiking trail that is both serene and beautiful, with a heroic and historic back-story that only adds to its magic. This scenic hike in Idaho spans two miles and will lead you somewhere unforgettable: the historic Pulaski Tunnel, an abandoned silver mine entrance with a great deal of history in itself. So, whether you're looking for one of the best hikes in Idaho or a scenic hike in Idaho with a huge payoff, you won't be disappointed with a visit to this gem. Take a look: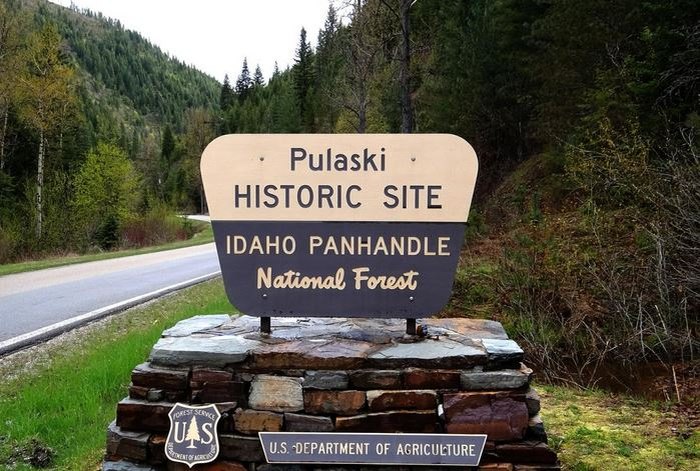 In commemoration of Pulaski's efforts, the trail he blazed through the woods to the old mine was restored into this popular informative and remembrance trail in 2003, with scenery that captures just a taste of everything northern Idaho has to offer.
To learn more about the Pulaski Tunnel Trail, visit the Forest Service website.
So, did you know about this scenic hike in Idaho? Do you think it's one of the best hikes in Idaho? Tell us in the comments section.
For details on the Big Burn of 1910 and other historical moments in Idaho, keep following Idaho Only!
OnlyInYourState may earn compensation through affiliate links in this article.
Address: Pulaski Tunnel Trail, NF-456, Wallace, ID 83873, USA
Scenic Hike In Idaho
March 02, 2021
What are the best hikes in Idaho?
Idaho is brimming with incredible hiking trails. Of all the amazing Idaho trails, though, one you don't want to miss is the Fishhook Creek Trail. The family-friendly hike is five miles round trip and is suitable for all activity levels and ages. Offering the perfect combination of recreation and relaxation, it meanders through forests and meadows and features several pristine ponds and multiple points to stop and enjoy the views, which include the lovely Fishhook Creek Meadow and Mount Heyburn. For a hike unlike any other, you've got to head to Craters of the Moon National Monument and Preserve. The site was created by active lava flow over 2,000 years ago, making it unlike any other national monument on the continent. Caves Trail, a 1.6-mile hike that leads through four lava tubes and along fissures, is a great way to explore the unique site.
Which Idaho trails offer the best scenery?
A hike is a great way to experience Idaho's immense scenic beauty. And though all Idaho hikes are worthwhile, there are a few that stand out above the rest – and the hike to Goldburg Hot Springs is one of them! The hike is somewhat strenuous and is four miles round-trip; however, the effort is completely worth it since the hike comes to an end at cliff-side hot springs, which are fed by a creek that features waterfalls. Speaking of waterfalls, you can actually hike to the edge of Lower Mesa Falls. To do so, simply follow the Mesa Nature Trail, a 2.2-mile out-and-back trail.
What are some short, easy hikes in Idaho?
Not all worthwhile treks extend for miles and miles. Take the Blue Lake Trail, for instance. It's just a 1.7-mile round trip, yet offers an incredible view of its namesake lake at 423 feet. Boasting a rich history, unique views, and hikes of varying lengths, the City of Rocks National Reserve in Almo has a trek for the explorer in all of us. For a short-and-sweet hike, you can't go wrong with the 1.2-mile Geological Interpretive Trail Loop.