This Idaho High School Is Among The Most Haunted Places In The Nation
Located in southeastern Idaho, Pocatello is one of the most historic cities in the Gem State. The area was first developed by fur trappers in the early 19th century and continued to see massive growth during the Gold Rush of the 1860s. It's fair to say that Pocatello has an unbelievably rich history. In fact, the town's extensive history may play a part in the fact that it's considered one of the most haunted towns in Idaho. However, one of the creepiest locations in this southeastern city is Pocatello High School. Thanks to video footage and various report, Pocatello High School is considered one of the most haunted high schools in Idaho and maybe even the entire country.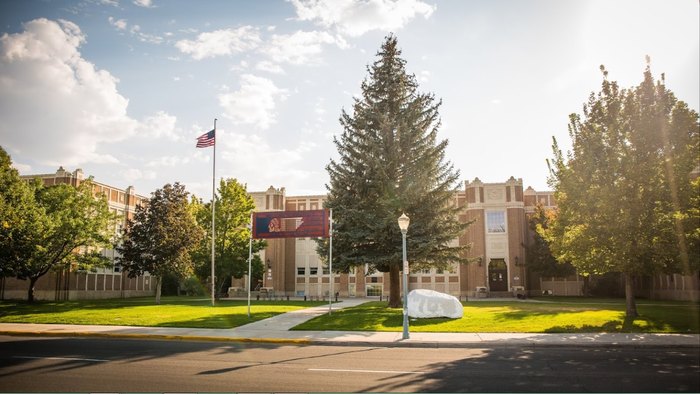 Did you know about the haunted history of Pocatello High School? It's no wonder this school is considered one of the most haunted places in Idaho.
What is one of your favorite haunted places in Idaho to visit? Tell us all about it! Share with us your experiences at these locations in the comments below.
Do you want to see more creepy places in Idaho? Check out The Ultimate Terrifying Idaho Road Trip That Will Haunt Your Dreams.
OnlyInYourState may earn compensation through affiliate links in this article.
Address: 325 N Arthur Ave, Pocatello, ID 83204, USA
Haunted High School in Idaho
October 11, 2021
What are some of the haunted places in Idaho I should visit?
Idaho is home to some truly spooky locations all around the state. The southern part of the state, for example, is home to numerous haunted places that you will want to check out if you love a good fright. While Pocatello High School is well-known for its paranormal activity, Ammon Park in Pocatello is also believed to be haunted. There have been several reports of a young girl who has been spotted on the swings and suddenly disappears.
Stricker Ranch in Hansen is also well-known for its paranormal activity. This ranch was once an important part of the Oregon Trail and to this day is believed to be haunted by many travelers who perished nearby.
In the small town of Gooding is University Inn. This current inn is not only believed to be haunted, but many individuals consider it one of the most creepy places in Idaho. The University Inn has a fascinating history as it was once Gooding College and then a tuberculosis hospital before becoming a bed and breakfast and an inn. There are multiple reports of paranormal activity in this building including an angry spirit who tends to lurk in the guest rooms.
What are some of the spookiest haunted attractions in Idaho?
If you love to give yourself quite a scare, there are some creepy places in Idaho to enjoy. The Haunted Mill in Teton Valley is one of the scariest haunted attractions in Idaho. Here, you will tour a historic flour mill and haunted grounds. From antique machinery to spooky legends, be prepared for a night of pure fright.
In various locations around the state, you will also find haunted houses, forests, and corn mazes. These haunted attractions will quickly get you into the Halloween spirit. Just make sure you check back year after year as times, hours, and even attractions may change.