Every Winter, Up To 80 Bald Eagles Make The Famous Eagle Tree In Idaho Their Temporary Home
Winter is paradise for bird watchers in Idaho. It's during this time of year that we see several species of migrating birds taking up residence in the Gem State for a short time before moving on to somewhere else. Waterfowl are especially abundant, such as mallards and Canadian geese, but one of the most exciting birds to pass through Idaho this time of year are bald eagles. Seeing a bald eagle firsthand is a mesmerizing experience. As one of America's greatest icons, bald eagles are majestic birds that can take your breath away with a single glance. There are lots of great eagle watching spots here in Idaho, but the famous Eagle Tree is an especially fantastic place to visit.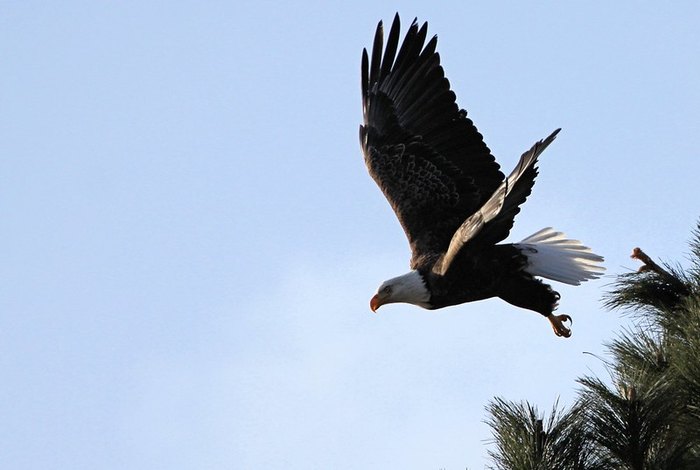 Did you know about the famous Eagle Tree in Hagerman? Seeing these bald eagles in Idaho, even from a distance, is such a magical experience!
Another quick reminder: the Eagle Tree is on private property. Please keep a safe distance and do not frighten, disturb, or attempt to feed these incredible creatures. For an up-close experience with a wide variety of Idaho's raptors, including falcon demonstrations and numerous educational opportunities, visit the Peregrine Fund's World Center For Birds of Prey in Boise.
Craving even more Idaho nature? If sleeping in a yurt among the sights and sounds of wildlife seems like something out of a dream, this wildlife refuge in East Idaho is definitely the place to be. 
Address: Eagle Tree, W Point Rd, Wendell, ID 83355, USA
OnlyInYourState may earn compensation through affiliate links in this article.
Bald Eagles in Idaho & Related Info
November 16, 2022
Where can I see eagles in Idaho?
Every year, from approximately November to February, bald eagles can be spotted near rivers and bodies of water in Idaho, fishing for kokanee salmon and performing pre-spring mating rituals. The best places see eagles in Idaho are around water sources that have tall trees along the shore, such as the state's many wildlife refuges. A few places to see eagles in Idaho are:
To view other magnificent raptors, such as red-tailed hawks, California condors, and Peregrine falcons, visit:
You can also visit one of Idaho's many nature preserves for some incredible bird-watching experiences.
How many bald eagles are in Idaho?
The number of bald eagles in Idaho varies from year to year. However, every winter approximately 200 bald eagles migrate from North Idaho to Southern Idaho, often from Canada, to feed on spawning salmon. Their numbers have improved greatly over the years in part due to continued efforts by the BLM and local conservation organizations.
Address: Eagle Tree, W Point Rd, Wendell, ID 83355, USA
OnlyInYourState may earn compensation through affiliate links in this article.