The History Of This Sacred Hawaiian Valley Is Terribly Heartbreaking
The Hawaiian Islands are steeped in history, from the first Europeans visiting the islands in 1778 and the establishment of the Kingdom of Hawaii in 1795 to Hawaii's admittance to the United States of America in 1959. Not all of that history, however, is remembered fondly, as is the case with the sacred Hawaiian valley with a heartbreaking history, which you'll soon discover as you hike along the Makua Valley.
Editor's note: Please note that the Makua Valley is only open to the public via the Cultural Access Program, which you can learn more about here.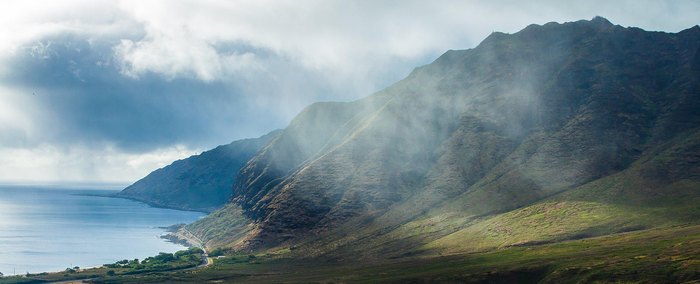 To learn more about the history of Makua Valley, as well as Malama Makua's cultural access program and upcoming dates upon which one can hike the grounds, visit their website.
To read about the heartbreaking story of a forgotten Hawaiian Island, check out this feature with related content.
OnlyInYourState may earn compensation through affiliate links in this article.
Address: Makua Valley, Hawaii 96791, USA
Makua Valley hike
August 11, 2022
What are some other historic hikes in Hawaii?
If you like a hike and a history lesson, as with the Makua Valley, you'll want to explore the Kalaupapa Leprosy Settlement. Located on the tiny island of Molokai, with the ocean on one side and giant 1,600-foot cliffs on the other, is the Kalaupapa Leprosy Settlement, described by Robert Louis Stevenson as a "prison fortified by nature." Kalaupapa is now a U.S. National Park, and home to a dwindling population, those of whom are outnumbered exponentially by those in the cemetery – where an estimated 2,000 graves lie unmarked, in addition to those with headstones. It's another heartbreaking point of Hawaiian history, unfortunately. Another historical place to explore is the Honokohau Settlement, situated on Hawaii Island's Kona Coast. This famous national historical park was established in the 1960s, and was once the site of Honokohau Settlement. The archaeological site is home to ancient Hawaiian aquaculture fishponds, petroglyphs, house site platforms, and sites with religious significance for folks to explore today.
Are there any historic cemeteries in Hawaii?
There are; most famously, the National Memorial Cemetery Of The Pacific. Informally known as the Punchbowl Cemetery, the National Memorial Cemetery of the Pacific is on the National Register of Historic places, and serves as a memorial to honor those who have served in the United States Armed Forces, and those who have given their lives doing so. It's a beautiful place that elicits contemplation and reverence for Hawaii history. Similarly, Kawaiaha'o Church, colloquially referred to as Hawaii's Westminster Abbey, was once the national church of the Kingdom of Hawaii, and the chapel for the royal family. The church, located in downtown Honolulu, is one of the oldest standing Christian places of worship in Hawaii and a must-visit for history lovers.