Walk Along The Largest Banyan Tree In Hawaii At Lahaina Banyan Court Park
If you are fascinated with the incredible plants on these lovely islands, you have to visit the largest Banyan Tree in Hawaii, located at Lahaina Banyan Court Park on Maui. This unbelievable tree isn't just the largest in Hawaii; it's one of the largest in all of the United States of America!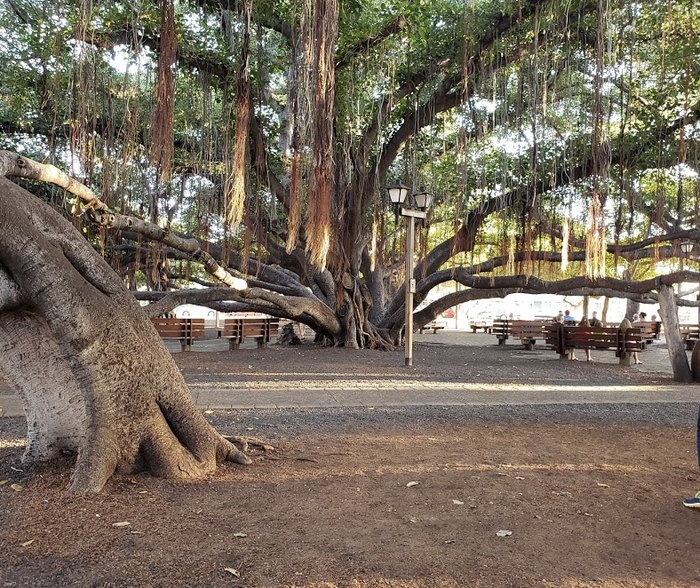 Have you ever seen the largest Banyan Tree in Hawaii? What did you think? Did it blow you away? Let us know in the comments below!
If you want to see more amazing trees in Hawaii, check out these 6 Positively Magical Tree Tunnels In Hawaii That Will Take Your Breath Away.
Address: L?hain? Banyan Court, United States, 671 Front St, Lahaina, HI 96761, USA
banyan tree in Hawaii
August 10, 2022
What are some other unique gardens in Hawaii?
If you enjoy seeing unique natural features in Hawaii, such as the largest banyan tree, you'll definitely want to check out the state's other fantastic gardens.
For peak "Hawaii gardens" vibes, head to the northwestern shore of Maui and visit the world-famous Ka'anapali Beach. It's here where you'll discover 11 acres of breathtaking tropical gardens, as well as "Hawaii's Most Hawaiian Hotel," the incomparable Ka'anapali Beach Hotel. Many consider this hotel to be the Aloha State's most beautiful, in fact.
In true paradise fashion, Garden of Eden in Maui is a lush botanical garden set on 26 acres full of trails, picnic spots, waterfalls, and coastal views. Visitors should be sure not to miss these incredible grove of rainbow eucalyptus trees, which look as though they have materialized here from the pages of a story book!
And if you're looking for a wholly unique "garden" to explore in Hawaii, head to Garden of the Gods. Also known as Keahiakawelo, Garden of the Gods is an otherworldly rock garden at the end of Polihua Road and is located 45 minutes from Lanai City. According to lore, this barren landscape is the result of a contest between two priests from Lanai and Molokai. Each was supposed to keep a fire burning on their island longer than the other, and the winner's island would be rewarded with great abundance. Apparently Kawelo, the Lanai priest, used every bit of vegetation found in Keahiakawelo. It's a fascinating story befitting of this fascinating place!
Address: L?hain? Banyan Court, United States, 671 Front St, Lahaina, HI 96761, USA